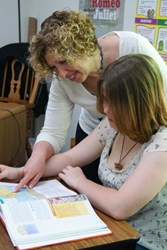 'By modifying the learning experience...we have seen the fear and anxiety virtually disappear,' commented Founder Graham Shannonhouse.
Asheville, NC (PRWEB) September 09, 2013
Summer is over and school refusal and school anxiety issues follow. The close of summer brings the beginning of a new school year for millions of students across the country. While uncertainty about the new school year and disappointment about the end of summer are common, for some students the fear and anxiety is heightened. According to the Anxiety and Depression Association of America, approximately 2 – 5 percent of school age children experience strong school anxiety or school refusal issues.
Trails Carolina has developed an innovative approach to academics that enables students to overcome school refusal and anxiety issues by getting to the cause of these issues and helping students achieve success.
"In our experience, much of school fear and school refusal are rooted in our students being bullied or feeling like they can't achieve," commented Founder Graham Shannonhouse. "By modifying the learning experience and making it a more positive experience we have seen the fear and anxiety virtually disappear. Academic success follows."
Trails Carolina's academic staff work closely with each student to better understand how they learn. Many students excel with personal attention, other students thrive under the experiential learning environment of Trails, and some students simply need some positive reinforcement.
"One of the beauties of the Trails classroom lies in the simple fact that school is less of an obligation here and more of a luxury," observes Brian Johnson, Director of Education at Trails Carolina and certified teacher. "For the first time in some students' lives, they may see school as something they get to do, rather than something they have to do."
Bullying, social anxiety, disinterest, and overwhelming pressure to excel academically are all major factors for school anxiety and school refusal. The education component at Trails is designed to encourage students to address these different concerns by providing a learning environment that is welcoming, individually-paced, and appealing to a diverse set of learners. Providing new skills and perspectives with which to approach school can be the beginning of fostering a positive relationship between students and learning.
For additional information on Trails Carolinas' academic approach or how Trails wilderness therapy can help struggling teens with school and other clinical or behavioral issues, please visit our website at http://www.trailscarolina.com, or call our admissions team at 888-387-2457.