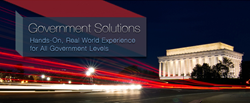 NetCom Learning is committed to providing the most effective and cost-efficient training solutions for government agencies.
New York, NY (PRWEB) September 09, 2013
NetCom Learning, the leader in information technology and business training, is dedicated to help Military, Federal, State and Local Government Agencies keep their employees current and certified in critical software by providing training programs including IT security and IT management. As the end of the fiscal year approaching, NetCom Learning introduces a discounted training package tailored for government and military agencies, accompanying with three savings programs, namely Learning Voucher Pass, Learning Saving Pass, Learning Course Pass that help clients manage their training budgets and save costs.
NetCom Learning offers flexible training solutions such as Standard, Accelerated, Customized, and in-depth Boot Camps which prepare students for multiple certification exams. Various training delivery methods are available for government and military agencies including private customized onsite training, training at the client location or at a NetCom Learning facility, as well as via live online training (LOT). NetCom Learning provides training that is required by the DoD Directive 8570.1 through field-recognized instructors. The NetCom Learning Government Training Division has options to fit any IT training need.
"NetCom Learning is committed to providing the most effective and cost-efficient training solutions for government agencies," said Russell Sarder, CEO of NetCom Learning. "From boot camps to customized instruction, NetCom Learning is the experts in government training solutions," said Sarder.
Discounted training package for government and military agencies
Government and military agencies can sign up for technical training now available at $2,485. This pricing structure applies to courses regularly priced from $2,495 to $3,600 and boot camps. The offer only applies to new registrations and requires full payment at the time of registration. The offer is good for those registering from June 1 2013 to November 30, 2013. Other terms and conditions include that the offer is not valid in connection with other savings programs, discounts, or promotions and excludes any third party self-paced e-learning products, any travel or accommodation cost, Partner Delivered Course, or Onsite Delivered Courses.
Cost-efficient solutions
To facilitate the need to optimize tax pay dollars, NetCom Learning offers a special government learning discount and a special pricing program tailored to agency needs. Security requirements for the classroom environment can also be readily accommodated. NetCom Learning offers savings programs which provide different options for both organizational and individual clients to economically obtain the training they need.

Learning Voucher Pass is available to help organizations and individuals manage their training budget on a per day basis.
Learning Saving Pass provides flexibility and helps extend an organization's training budget, an organization prepays for training needs then NetCom Learning provides matching funds up to 100% based on the size of the purchase.
Learning Course Pass gives organizations the flexibility they need to get their staff trained in an economical manner that comes with customized reporting capabilities to track training expenditures and progress.
DOD Directive 8570.1
The US Department of Defense has a directive referred to as the 8570.1 Directive that states that all DOD employees including military service personnel, defense contractors, civilian and foreign employees who have privileged access to a DOD IT system must have the necessary skills and certifications to do the job and protect the Department's data, networks and information systems. NetCom Learning coursework and government training solutions can assist the Department of Defense in keeping staff members up to date on current software training and IT certifications.
Why choose NetCom Learning for your training needs?
NetCom Learning instructors who routinely achieve high ratings from their students possess an average of 16 years of experience and a cumulative average of more than 10,500 years' experience in the field of their expertise. The high quality of training has resulted in over 2,000 testimonials and a 96% customer satisfaction rate with those customers indicating they would recommend NetCom Learning to others. NetCom Learning offers training in a variety of options including traditional classroom settings, intensive boot camps either at NetCom Learning locations or offsite, private customized training, and Live Online Training (LOT) anytime anywhere.
For additional information or inquires for government and military training solutions visit http://www.netcomlearning.com/government/?advid=412 or contact us at government(at)netcomlearning(dot)com or 888-563-8266.
About NetCom Learning
NetCom Learning is an innovative leader in IT, business and executive training to companies, individuals, and government agencies. Since its inception in 1998, NetCom Learning has trained over 80 percent of the Fortune 100, serviced over 45,500 business customers, and advanced the skills of more than 71,000 professionals through hands-on, expert-led training, with the organization maintaining an average instructor evaluation score of 8.6 out of 9. NetCom Learning was recognized by Microsoft Corporation as its Worldwide Training Partner of the Year and named thrice to Inc. Magazine's list of fastest growing private companies in America. The organization was also recently named to the 2012 Top 20 IT Training Companies by TrainingIndustry.com and was named "Company of the Year" by the American Business Awards.
The purpose of NetCom Learning is to promote the values of lifelong learning