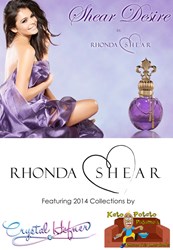 Tampa Bay, FL (PRWEB) September 09, 2013
Comedienne actress turned designer and entrepreneur, Rhonda Shear continues to build on the incredible growth of Shear Enterprises, LLC with the announcement of several exciting ventures launching in the next year. Recently recognized as #592 on the Inc. 5000 list and also listed on the Tampa Bay Business 100 List for 2013, Shear Enterprises, LLC president Rhonda Shear applies her creative out-of-box thinking to each new endeavor.
On October 10th 2013, Rhonda Shear will be introducing her first fragrance Shear Desire on HSN where she currently sells her full line of intimates including the world famous Ahh Bra. Shear Desire was designed by Rhonda herself and features a unique blend of notes including top notes of black current, red mango, pomegranate, and strawberry, mid notes of jasmine, Moroccan rose, and davana flower, and dry notes of amber, patchouli, cashmere woods, vanilla, and tonka bean. Pulling from Rhonda's New Orleans roots, the Shear Desire bottle is a beautiful purple glass with hearts and faceting and features a gold fleur de lis topper. Rhonda encourages shoppers to inspire desire and flirt with fun wearing the deliciously feminine Shear Desire fragrance.
As the hostess of USA: Up All Night and throughout her successful Hollywood career, Rhonda Shear developed a close relationship with Playboy which has now resulted in the creation of a playful new line of sleep and loungewear for the beautiful Mrs. Crystal Hefner. Rhonda and Crystal are excited to announce the sneak peek of the new Crystal Hefner line during Rhonda Shear Intimates' runway show in Fashion Week Tampa Bay this September. Expect to see cute and comfortable PJs in soft colors with adorable detailing.
Kato Kaelin, comedic personality and longtime friend of Rhonda's, will also be introducing his line of novelty loungewear — Kato Potato Pajamos — during Fashion Week Tampa Bay this year. Known by many as a Hollywood couch surfer and for his involvement in the O.J. Simpson trial, Kato is embracing his inner "slacker" and encouraging shoppers to discover the couch-potato within. Rhonda and Kato have combined their humor and creative personalities to develop some great pieces for the collection. Expect to find comfortable options for men and women with fun features like remote pockets and entertaining graphics.
Branching into new collections and collaborations hasn't slowed Rhonda Shear down a bit. Her own line, Rhonda Shear Intimates continues to expand internationally, she is in the process of writing a book, and continues her involvement with amazing charities. This October, Rhonda will be Dancing with the Stars (Tampa Bay charitable competition), Making Strides with American Cancer Society, and hosting a Halloween stand-up comedy show. Follow Rhonda for all the latest news and events on her new website http://www.RhondaShear.com, on Facebook, Twitter, Instagram, Pinterest, or LinkedIn. Rhonda Shear, Crystal Hefner, and Kato Kaelin will be available for interviews during Fashion Week Tampa Bay 2013.