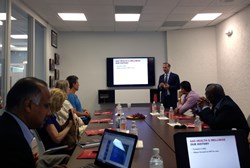 Miami, FL (PRWEB) September 10, 2013
Recognized leading authority on integrative wellness and age management medicine, AAG Health & Wellness, recently hosted a 3-day training seminar to further educate fellow physicians on AAG's proactive, preventive integrative medical approach to health and wellness.
Among those who attended the seminar included AAG partner physicians from the groups New York, Miami, Tampa, San Antonio, Dallas, Los Angeles, San Francisco and Portland integrative wellness centers. The training seminar proved critical for all the physicians in attendance and centered on several key topics of interest that interfaced with clinical issues based on the latest research and relevant literature in age management medicine.
The underlying theme of the 3-day seminar lied with AAG Health's medical protocols and how they benefit the patient. AAG's approach takes a 180-degree turn from mainstream medicine's disease focused, reactive philosophy and uses a combination of proactive, results orientated measures that incorporate diagnostic testing, hormone medications, nutraceuticals, diet, nutrition, activity tracking and wellness coaching, all under direct physician supervision and monitoring.
The seminar was hosted by AAG Health Medical Directors; Derrick De Silva M.D., Victor Shabanah M.D., and George Munoz M.D., who presented evidence-based lectures and critical topics focusing on how age management and anti aging medicine is practiced in the 21st century - From cardiovascular health, lifestyle modification, hormone therapy and emerging sciences, to integrative wellness and age management programs centered on superior patient care.
Additional topics of great interest to the entire group centered on diet, nutrition, principles of wellness coaching, the benefits of testosterone therapy, diagnosing low T, the use of estrogen blockers, sermorelin therapy protocols, along with how to diagnose adult onset growth hormone deficiency and the process behind initiating HGH therapy.
About AAG Health & Wellness
AAG Health & Wellness is the leading nationwide provider of integrative wellness and age management medical services that help patients accomplish more in life. Founded in 2003 and headquartered in Miami, FL, AAG Health is a concierge-style medical practice that provides successful men and women cutting-edge treatment plans that deliver peak performance and higher quality of life. AAG Health has a network of health centers throughout the United States. For more information, visit http://www.aaghealth.com.