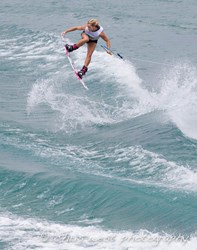 In the final round, the competition was tough, and I knew I would have to stick my run to reclaim the world title.
(PRWEB) September 09, 2013
After being sidelined with a broken ankle for much of the season, pro wakeboard rider Raimi Merritt roared back at the IWWF Wakeboard World Championships in Korea over Labor Day weekend to reclaim her title and take gold in the open women's division.
The IWWF's Wakeboard World Championships are held every two years and are considered to be the Olympic Games of wakeboarding with 160 wakeboard riders competing from 30 countries. The event ran August 28-September 1, 2013 at the Hwamyung Eco Park in Busan, Korea.
"Coming into the Worlds, I had only been back on the water for three weeks after a broken ankle. I was just happy to be in Busan competing," said Merritt.
Though she was also battling strep throat and bronchitis over the weekend, Merritt won both of her heats in the women's qualifying rounds and semi-finals. Then on Sunday, she dominated the finals by hitting her rails with style, performing her signature S-Bend, and finishing with a big wild card trick. Merritt's score of 67.00 points beat out Amber Wing (AUS) and Caroline Djupsjö (SWE), who finished second and third, respectively.
"My focus was to stay consistent through each round leading up to the finals," said Merritt. "In the final round, the competition was tough, and I knew I would have to stick my run to reclaim the world title."
Merritt grew up in Lantana, Florida, and began competing when she was 11. She lives and trains in Orlando, and also works as a wakeboarding instructor. She is sponsored by Nautique Boats, Hyperlite, OrigAudio, MonaVie, and Breathe Boardwear. For more information about Merritt, visit: http://www.raimimerritt.com. Fans can also connect with her on Facebook at Facebook.com/MerrittRaimi, Twitter.com/MerrittRaimi, and Instagram @RaimiMerritt
###