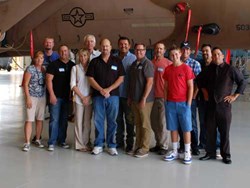 Helping Those That Have Fought For Our Freedom
Las Vegas, NV (PRWEB) September 09, 2013
In early August the dental professionals and suppliers that are part of FreedomFriday.org were invited to take a tour of the F-15 maintenance facility at Nellis Air force Base in Las Vegas, Nevada.
The day started with a catered lunch, provided by the doctors of Warm Springs Dental at their office. After lunch the group of about ten contributors boarded a bus, provided by the 3M Corp. and headed to Nellis AFB for the tour.
Once at the base the group was treated to an hour tour or the F-15 maintenance building, a place that is normally off limits the public. Special permission was given to the group's photographer to take pictures of the F-15 fighter jets that were undergoing routine maintenance. All of the dental professionals were very impressed by the planes and the dedicated men and women that keep them in airworthy condition.
FreedomFriday.org is a group of Las Vegas dentists, dental labs, suppliers and volunteers that are dedicated to helping, unemployed and homeless military veterans in the Las Vegas area. To date they have provided over $100,000 worth of dentistry at no-cost to the veteran.
Freedom Friday was founded in January of 2013 by Todd W. Newton, D.D.S and his partners at Warm Springs Dental with the mission of Helping Those That Have Fought For Our Freedom. Providing free dental care to Veterans in need is their way of giving back to the community that has supported them for over 22 years. For More information go to FreedomFriday.org.