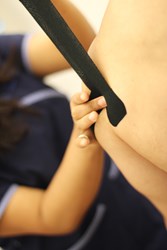 New York, NY (PRWEB) September 10, 2013
The team from Living Well Medical will include chiropractors along with physical rehabilitation and massage therapists, and will be available to help and consult anyone participating in the event. The staff will assist and prepare participants for maximum performance, injury prevention and endurance. The Civilian Military Combine NYC Metro Urban Assault will be a grueling, competitive race with military obstacles.
The event begins with a lifting segment, followed by a 5 mile obstacle course. The race has been devised by experts from the Crossfit Community, United States Armed Forces, and the USA Triathlon Organization. Participants are will be able to join the race individually or as part of a team.
Top performers will compete for several awards, including Top 3 Male Division, Female Division, Male Master Division, Female Master Division, Military Division, First Responder Division, Fastest Course Time, and most PIT Repetitions.
Dr. Shoshany, along with his physical rehabilitation, chiropractic, and medical massage team, which includes Dr. Jose Cortes and Massage Therapist David Vargas, will be on site to assist participants pre- and post-race with their trademark non-surgical injury prevention and treatment therapies. Some of his most sought-after treatments which will be available to NYC Metro Urban Assault.
Participants will be able to benefit from many of the methods used at the Living Well Medical office, which include kinesio taping (for enhanced performance, endurance, and injury prevention) and Active Release Techniques® soft tissue manipulation to prepare muscles and ligaments for optimum execution of exercises and running, and help muscles and tendons recover faster after the competition. The staff are certified and extensively trained in ROCKTAPE, kinesio taping and Dr. Shoshany is a certified full body Active Release Techniques® specialist. Should any of the participating athletes experience any race-related injury, both treatments will aid in speeding up healing.
Participating athletes are also welcome to visit the doctors at their Manhattan physical therapy, and rehabilitation facility following the race in order to explore the variety of recovery and corrective therapies offered, such as cold laser therapy, therapeutic ultrasound, medical massage therapy, physical therapy, chiropractic adjustments, spinal decompression, and much more.
For more information on tips and treatments, which will be offered to this year's NYC Metro Urban Assault participants, please visit http://www.livingwellnewyork.com, where patients can also book consultations and learn about the entire range of available non-surgical, non-invasive services. For more on Civilian Military Combine NYC Metro Urban Assault, or to register to become a participant, please visit http://www.civilianmilitarycombine.com.