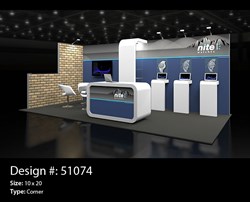 We wanted to assemble this gallery as a brainstorming 'launch pad' for exhibitors.

- APG President Matt Baron
Grayslake, Illinois (PRWEB) September 06, 2013
APG Exhibits - re-branded recently from APG Trade Show Displays - recently completed work on its exclusive online gallery of custom tension fabric displays, providing a convenient location for customers to see the myriad of possibilities available when venturing into "custom" territory.
"Exhibitors looking to put the time, effort, and money into a completely custom tension fabric display are often overwhelmed by the kaleidoscope of available choices," explains APG President Matt Baron, "so we wanted to assemble an idea gallery for this base of customers as a brainstorming 'launch pad' of sorts."
The gallery of images features a wide variety of booth sizes and orientations, all culled from APG Exhibits' "Origin" line, a division that is responsible for designing and producing virtually all of the custom projects that are dreamed up by APG's client base. The images feature towering structures, graceful curves, and functionality not possible with traditional tension fabric displays. The featured units can be purchased as-shown, or the various individual elements can be combined to create a hybrid display that meets whatever needs the client may have.
APG has also brought on-board a custom design team who can work hand-in-hand with the end-user to ensure that every detail is perfect and precisely as envisioned. For a limited time, this design work is being offered for free as part of the overall project, and can be specifically requested when speaking with a custom order specialist.
For more information about APG Exhibits or their expanded custom tension fabric display capabilities, please contact Matt Baron at 866-752-2192, or use the email link provided.
...
APG Exhibits is a premier online provider of trade show displays, outdoor exhibits, tension fabric displays, custom banners and more. APG Exhibits' mission is to provide high-quality trade show display products and outstanding customer service at the guaranteed lowest prices. Contact Customer Support at 866-752-2192 or visit http://www.apgexhibits.com for more information.