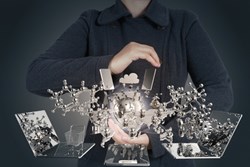 With a website interface, the user transcends the lack of support for IP address proxies.
Dallas, Texas (PRWEB) September 07, 2013
idcloak Technologies launches its web-based proxy – a free service on idcloak.com which allows discrete, fast and easy navigation of websites not normally accessible via restricted internet connections. The release will be of especial interest to tablet users accessing WiFi hot spots on networks that block websites, such as in universities or workplaces.
"Tablet sales are going through the roof but these devices lack proper software support for IP proxy configuration," says idcloak's lead web researcher, Robin Welles. "Android users are limited to the handful of browsers that allow proxy configuration, such as Opera Mobile, while iPad owners have to reconfigure their entire WiFi setup to use a proxy. We wanted to present a different, easier solution for those seeking free access to a proxy."
idcloak's proxy web site was the answer: an HTTP proxy server which is operated by a menu on the idcloak site.
"With a website interface, the user transcends the lack of support for IP address proxies on their device. They can access a proxy without any reconfiguration of settings. Now, anyone needing to unblock a website on a restricted network just needs to visit idcloak.com on their browser first."
Since the proxy web site depends on the user being able to access it, mechanisms have been put in place to prevent censorship systems from identifying and blocking the proxy activity, namely: Encrypt URL, Encrypt Page and Encrypt Connection (activated by the SSL checkbox). Welles recommends all three be activated before a prohibited site is accessed through the proxy.
Also available through the proxy menu is the choice of country location. The three available proxy servers together help ease the load by distributing the overall traffic load and offering users a server in their global vicinity. "Thanks to the three servers, our proxy site is able to perform heavy data-transfer tasks with minimum or no lagging."
The release comes just several weeks before idcloak launches its high-performance paid proxy service, the idcloak VPN proxy with multiple servers based around the world.
idcloak will continue to provide unblocking services at zero cost after the VPN release.
See idcloak.com to learn more about freedom, privacy and security on the web.