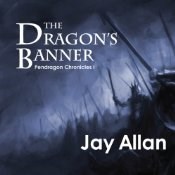 A great story about a time before King Arthur.
(PRWEB) September 17, 2013
SciFi Publishing is proud to announce the release of its newest scifi audiobook, Dragon's Banner. Dragon's Banner, written by bestselling author Jay Allan, is now available for sale on Amazon, Audible and Itunes..
About Dragon's Banner
The empire that ruled the world is crumbling, and darkness is falling. Cities burn, armies pillage, and warlords struggle for domination. In the shadow of Rome's fall, the land of Britannia is divided and bleeding.
Uther Pendragon is the son of a king and grandson of an emperor. He and his allies will journey to the heart of the dying empire, lead great armies, and forge a fragile alliance, the last hope to preserve the fading light of civilization.
Amidst the ruins of Roman power and glory, the free peoples of Britannia make their last stand against the forces of darkness.
On blood-soaked battlefields and before towered fortresses under siege, Uther and his warriors wage the final war for the future of Britannia. But will victory come at too high a cost?
Before King Arthur, before the round table, before Camelot...there was Uther Pendragon, Britannia's greatest warrior. This is his story.
What People are Saying
5.0 out of 5 stars "Never Before Have I Read Such a Great Story!!!!!"
5.0 out of 5 stars "Excellent storytelling of Pre-Camelot Britain!"
5.0 out of 5 stars "Wonderful read"
About the Author
Jay Allan currently lives in New York City, and has been reading science fiction and fantasy for just about as long as he's been reading. He enjoys military and dystopian science fiction and epic fantasy. You can join his mailing list at http://www.crimsonworlds.com for updates on new releases.
About Sci-Fi Publishing
Sci-Fi Publishing enables authors to bring their work to life, creating powerful audiobooks for Sci-Fi fans. We partner with authors from audiobook production to marketing so they can continue to focus on their passion, creating new and amazing worlds.