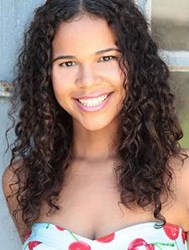 The Sticks & Stones Program helped my teenager and I learn how to speak the same language. We are closer than ever.
Los Angeles, CA (PRWEB) September 10, 2013
Most parents feel like their teen is speaking a different language, they're not completely mistaken, but more importantly, they're not alone! Help is finally available. The Sticks & Stones Seven-Week Program bridges the communication gap between parents and teenagers. The Program helps parents and teens learn how to work together to communicate more effectively and build a stronger bond.
Los Angeles based author Meaghan Roberts released this new ground-breaking program designed specifically to help parents create an environment where teenagers feel comfortable opening up. The Program consists of two eBooks, Sticks & Stones and My Rock. Sticks & Stones is the ultimate self-help guide for teens which focuses on issues they're faced with daily. "What makes this program unique is it utilizes technology which is appealing to teens, and its interactive aspect," said Meaghan. Sticks & Stones is also an e-journal teens can use to privately write their thoughts, feelings, and questions. It creates a safe outlet for teens to express themselves.
Here's how it works. Teens read one chapter a week and spend the remainder of the week reflecting and writing about what they learned. My Rock, the supplemental guide, gives parents insight on what their teens are reading each week. It also offers tools and questions to help parents start and facilitate a conversation with their teens. The Sticks & Stones program encourages parents and teens to work together to build trust as well as equip teens with skills that promote conversations with their parents.
Roberts is available to discuss the new interactive program and what led her to develop it. For review/feature attention, please contact her at Meaghan@mysticksandstones.com.
AUTHOR BIO: Meaghan Roberts is the author of Sticks & Stones and My Rock. She has a B.A. in Intercultural Communication, a Juris Doctorate and a Masters of Dispute Resolution from Pepperdine University. Her passion is to help develop and strengthen human connections. She believes lack of communication is not only the number one reason why relationships fail, but also the reason why they fail to grow. Meaghan developed the Sticks & Stones seven-week program as a starting point for families to communicate with one another openly and honestly.
The Sticks & Stones Program is available only at http://www.mysticksandstones.com