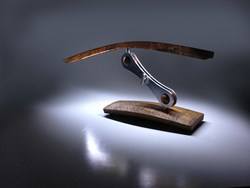 Our supporters have astonished us
Healdsburg, CA (PRWEB) September 09, 2013
The Kickstarter campaign to fund the most unique LED lamp met with striking success, hitting its initial goal within the first twenty-four hours with support of over 26 backers. Lumia is an elegant, functional, affordable, and well-designed LED lamp that is made in the U.S.A. Lumia is the term coined by 20th Century Artist Thomas Wilfred to refer to art created from light. He coined the term "lumia" to describe "an eighth art" where light would stand on its own as an expressive art form.
"Our supporters have astonished us with their generosity," said Dale Rorabaugh, founder and CEO of Lumia. Entrepreneur and small-business owner Dale Rorabaugh sees the challenge. As production in America is in decline, more and more products are being sourced and made overseas, taking with them American jobs. As a result, products that are still being produced here are often more expensive.
"Lumia is the answer to the desire for an American-made, handcrafted LED lamp using upcycled wine barrels that doesn't charge a premium for simplicity and functionality," Rorabaugh says. "I created a beautiful lamp and made it here in California, in a way that is affordable for everyone.
The idea has connected with backers on the crowdfunding website Kickstarter, where the Project Lumia: an eighth art has raised over 250% of Rorabaugh's initial goal of $3,000 in just two days of funding. Funding ends on October 13, 2013 and Rorabaugh would like to have more people be able get a hold of his lamp that is actually functional art.
Nearly 200,000 wine barrels are retired each year in California. Although some end up as planters or firewood, many are destined for landfills. Rorabaugh decided to do something about that. His team rescues wine barrels from wineries that simply don't have the space to keep them any longer. They then give them new life - in this instance the design is not only a beautiful but practical table lamp but also a functional work of art.
Finished wine barrel staves, sculpted milled aluminum arms, maple wood balls from Maine for the joints and on/off LED dimmer touch switch are all incorporated into Lumia. The team is committed and proud to handcraft this lamp in California and make it in the USA.
These funds will be used towards the development and manufacturing of Lumia including: Designing a machine to speed up the process of sanding the staves as they are curved in both directions, making them time consuming to sand; a special jig for grooving the stave for the LED strips on the bottom of the base of the lamp; complete CNC programming and production of the pivot arms; and finally buying components and materials to complete the project.
Dale Rorabaugh is an award-winning designer and developer of high-end lighting, outdoor furnishings and technical products. Rorabaugh Designs is a subsidiary of Cool Invent LLC. Dale Rorabaugh is the Founder and CEO of Cool Invent.