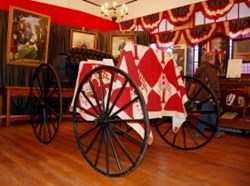 Galena, IL (PRWEB) September 20, 2013
This is an exciting and newly formatted show, different from past years. The first addition is the fact that not only will there be quilts on display (over 100) and quilt vendors showing and selling the newest in quilt projects, fabrics, notions and equipment, but there will also be fiber arts vendors displaying and selling their product.
The show will be held at Historic Turner Hall, 115 South Bench Street, Galena, Friday, November 8th and Saturday November 9th. Admission for the two day show is $5.00. Classes and demonstrations will be offered on Sunday, November 10th.
The pre-show will kick off on Friday, November 8th at 6:00. Joyce Guenzler is scheduled to present a bed-turning, which will showcase many lovely quilts. Our vendors will have their booths open and ready for business. Take advantage of getting to see the show prior to the official Saturday opening.
Saturday, the show will be open from 10:00-5:00, providing you with the opportunity to see over a dozen vendors in one facility and to view and experience over 100 quilts.
Saturday night brings yet another special presentation. Join us at 7:00, November 9th to hear author, Laurie Aaron Hird talk and showcase her books. Laurie is the author of The Farmer's Wife Sampler Quilt and The Farmer's Wife Pony Club Sampler Quilt. As stated on Laurie's web page "We remember the past through vintage stories and quilt blocks". Laurie will have quilts on display and will have copies of her book available for sale and will sign your book purchases. Come listen to Laurie and partake in some light refreshments. Admission to this event is $5.00.
Members of the Elizabeth Friendship Guild have produced a lovely quilt, "Sweet Nothings" utilizing vintage fabrics that will be offered through a raffle. The winner of the raffle will be announced on Saturday evening at the event featuring Laurie Aaron Hird. Tickets for the quilt raffle will be available throughout the quilt show and the quilt will also be on display and tickets offered at other events throughout the community.
Vendors participating in this show are: Bleating Heart Haven New Holstein, WI, Cottage Rose, A Quilt Shop, Marion IA, Karen DeWitt, Author of the Bunco Club, Dubuque Sewing & Vacuum, Dubuque IA, Forest Mills Quilt Shop, Postville, IA, Fabric Stasher, Tipton, IA, Froebe Fibers, Flossmoor, IL, Heirloom Mittens, Susan Brusch, Galena, IL, Phat 1/4s, Galena Il, Pins & Pieces Quilt Shop, Darlington, WI, Quilter's Haven Rockford IL, R Amy Design Co, Jewelry, Galena, IL, and Village Crafters, Tomahawk, WI.
In addition to the show, there will be classes and demos offered at a variety of locations throughout Galena and at Turner Hall. Additional information is available online.
For updated information about the Quilt and Fiber Arts show, check out http://www.bestofgalena.com and you are invited to follow us on Facebook at https://www.facebook.com/NorthernILQuiltFest.
For information on Galena lodging and the surrounding area, please visit http://www.VisitGalena.org or call 888.942.5362.