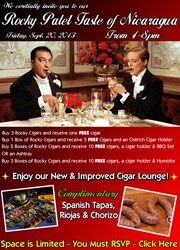 This event speaks to the spike in popularity that Nicaraguan cigars are now enjoying
Miami, FL (PRWEB) September 09, 2013
Rocky Patel and Mike's Cigars join forces to host a cigar happy hour event on Friday, September 20, 2013 from 4-8 p.m. at the newly updated cigar lounge in Mike's Cigars Distributors headquarters in Miami at 1030 Kane Concourse, Bay Harbor Islands, FL 33154. The theme is Taste of Nicaragua, highlighting the enduring Nicaraguan cigar trend of the times.
Last month's Davidoff Nicaragua and Camacho cigar launch party at Mike's Cigars was a standing room only event complete with DJ Darknight, complimentary Hooters wings, cigar models, and Camacho cigar giveaways paired with Black Label tastings.
For September's in-store event, complimentary Spanish Tapas, Rioja and Chorizo are provided. Rocky Patel representative Jose Hollywood will present informational demos about Nicaraguan cigars and the country's cigar industry. Characteristics of Nicaraguan cigars include rich, hearty blends from tobaccos of Nicaraguan origin, particularly the region of Esteli, and can be spicy and complex with aromas of fine leather and notes of roasted coffee beans. Nicaraguan puros are the cigar du jour and are enjoying a peak in popularity at the present time. Traditionally producing Honduran cigars, Rocky Patel's prime Nicaraguan cigar release is the Rocky Patel Private Cellar made with hand selected Nicaraguan-grown components and said to be on the bold side with depth and layers of complex flavors of sweet spice, dark chocolate and espresso. A Private Cellar Platinum cigar is forthcoming.
Rocky Patel super premium cigar releases available at Mike's Cigars include the RP Burn, Edge, Especial, Decade, Freedom, Olde World Reserve, 15th Anniversary, Private Cellar, and Vintage 1990, 1992, 1999, and 2003, in additional to several special selection Rocky Patel Cigar Samplers.
Special giveaways with Rocky Patel purchase include additional cigars, cigar holders, ashtrays, humidors and BBQ sets. Space is limited, attendees are required to RSVP here. For more information, visit http://www.mikescigars.com or call 305-866-2277.
About Mike's Cigars:
Established in 1950, Mike's cigar store is one of the big three independent cigar mega-stores in the United States with retail and wholesale cigars online since 1998 and mail-order catalog services since 1970, and also a cigar shop in Miami's Bay Harbor. All venues offer premium cigars from most cigar manufacturers worldwide. The company ships cigars, cigar samplers and cigar accessories to consumers all over the world, and carries over 1,000 different brands of premium cigars. Small cigars, large ring gauge cigars and everything in between are available on sale, in-store and online.