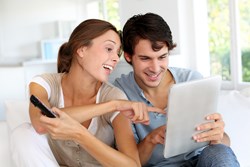 35% have stopped subscribing to pay-TV.
Los Angeles, CA (PRWEB) September 09, 2013
BluePromoCode.com, a leading marketplace for coupons and deals, today announced the results of a newly commissioned study. The study was sent to 100 young adults aged 18-34 and asked questions about their cable and internet TV viewing habits.
Highlights of the findings include:

35% have stopped subscribing to pay-TV, opting to use online services only
Women are multi-tasking much more while watching movies – 26% more than men
Netflix is nearly twice as popular as any other online video service
Checking email and social networking are the top two activities while watching movies and using a mobile device
Far majority of respondents watch TV using streaming services, such as Netflix, instead of going to theater or watching a DVD
89% still prefer to watch movies on a TV screen, instead of a laptop or other device
Basic pay cable TV prices are soaring and estimated to be $123 per month in 2015 and $200 per month by 2020, based on a study highlighted by NBC News. This study shows that 35% of young adults have dropped their cable TV services and are moving toward online-only services. In addition, only 5% reported using cable TV's Pay-Per-View services to watch movies and instead a majority 52% preferring to stream movies using a competing online service such as Hulu.
"Young adults are very price-sensitive and tech savvy" says Michael Quoc, Founder and CEO of BluePromoCode.com. "This study clearly shows that they believe online services are providing a better value for them."
The study also found that Netflix is the most popular service with nearly twice as many using it. Young adults still prefer movies on a larger screen as 88% preferred to watch them on a TV screen, versus smaller devices such as a phone or tablet, and they went to a movie theater 6.5 times per year.
The complete study with more in-depth results can be found at reports.bluepromocode.com. For the latest coupons for online video services such as Hulu, Amazon Prime, Fandango and others visit bluepromocode.com
About BluePromoCode.com
BluePromoCode, based in Los Angeles, is a leading coupon search engine used by millions of consumers to help them save the most money on their purchases. The website partners with 12,000 retailers to bring over 100,000 coupons to its users and its editors hand-check coupon codes to ensure the highest quality ones rise to the top. BluePromoCode also offers personalized emails so members can receive the best deals for the brands they love directly in their inbox. Learn more at bluepromocode.com.
Survey Methodology
In August 2013, Zipfworks commissioned a study to analyze consumer trends and shopping behavior for young adults. Zipfworks surveyed 100 U.S.-based young adults aged 18-34 for a quantitative study with SurveyMonkey. Questions were randomized and related to their specific spending, and TV viewing habits. Participants were provided non-cash incentives for their participation.
Bluepromocode.com is a registered domain of Zipfworks LLC. All other domains, names and trademarks mentioned herein are property of their respective owners.