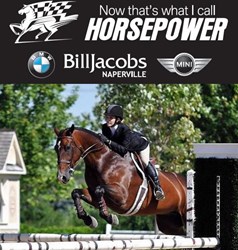 Equestrian sport is something the Bill Jacobs family is very passionate about, and we definitely have in common great 'horsepower'. -- Greg Joutras, General Manager
Wayne, IL (PRWEB) September 08, 2013
Bill Jacobs BMW in Naperville is pleased to announce their title sponsorship of the 2013 Showplace Fall Classic Championship Horse Show "A" Finals to take place next week. The event will be held at the Lamplight Equestrian Center in the charming western Chicago suburb of Wayne, IL. The Fall Classic will feature a full week of the best equestrian competition in the Midwest, beginning Tuesday September 10th, and concluding Sunday September 15th.
Bill Jacobs BMW will have two vehicles on display at the event, and will present the trophy and ribbons to the winners in the Grand Prix ring following the competitions. "We are proud to be a part of this prestigious show and support the tradition of competitive horsemanship in the Midwest. Equestrian sport is something the Bill Jacobs family is very passionate about, and we definitely have in common great 'horsepower'. We are also looking forward to presenting the trophy and ribbons to the winning riders following the competition," said Greg Joutras, General Manager.
Spectators are welcome at the event and admission is free for the public. The Lamplight facility features exquisite grounds with paved trails and a colorfully sculpted landscape, an open-air arena, and covered spectator pavilions. The fifty-six acre complex is devoted exclusively to the production of Regional and National equestrian competitions and hosts between 20 - 30 horse shows from April to October. The grounds also offer a restaurant and bar housed in a beautifully restored 19th century barn. Guests can expect an exciting performance from this top level competition featuring "A" rated hunter divisions, four star jumper divisions, and IHJA "A" Equitation Medals. Riders in numerous classes will be competing for top prize money throughout the week.
A crowd favorite is the Grand Prix show jumping—an Olympic sport with a global audience. In this discipline, riders must navigate complex courses filled with obstacles up to 6 feet high. It is a race against the clock with scoring that ranks riders by their time to complete the course, penalizing for any knock-downs or refusals.
About Bill Jacobs BMW
As one of the largest BMW dealerships in the Chicagoland area, Bill Jacobs BMW is fully committed to creating a shopping experience for their customers that matches the luxury products they represent. In keeping with the Bill Jacobs tradition, they promise to provide a customer-friendly purchasing experience, as well as a responsive and reliable experience in their service department.
Become part of the exclusive BMW Ultimate Owner Experience at Bill Jacobs BMW in Naperville. Visit Bill Jacobs BMW at 2495 Aurora Avenue, Naperville, IL 60540 or by calling (866) 516-8010. Visit Bill Jacobs BMW online at http://www.billjacobsbmw.com/index.htm.