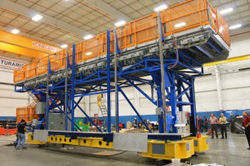 Sterling Heights, MI (PRWEB) September 09, 2013
The custom work platform was designed by Futuramic Tool and Engineering in Warren, MI to be sold to a leading aerospace manufacturer. The 15 foot high and 40 foot long platform would provide a stable work area for a team of workers at the upper level. The unique design proposed using a row of motorized extension units projecting outward up to 70 inches from the main platform to fit against the curved fuselage of the plane, with a swivel feature allowing the extension units to be further adjusted to the shape. On the opposite side there would be a 32 foot long tool shelf running along the length of the platform, which would be lowered for loading, and then mechanically raised to the level of the workers. The platform would be operated with a touchscreen interface.
The first version of this platform used ball screw mechanisms for moving the extension units. Unfortunately, when the units were fully extended the ball screws developed a bind and tended to stick, preventing smooth retraction. Tom Blum, of Futuramic, was familiar with Serapid products and gave Thom Tinetti, Serapid's Industrial Sales Manager, a call.
"After talking with Tom, I felt the best fit for this project was the Serapid LinearBeam," Tinetti said. "The LinearBeam is a linear actuator that uses the Serapid Rigid Chain. The LinearBeam doesn't bind and doesn't stretch over time as with a cable mechanism. Additionally, we offer the option of a treated chain which can virtually eliminate lubrication, an important consideration for composite manufacturing. For the tool shelf, the drive system would be on the bottom, with the thrust under the load, pushing instead of pulling the weight. Another plus is that the LinearBeam can be advanced or retracted incrementally so the units can be positioned very closely to the fusilage. Each unit is powered individually, and the chain has a smooth stable movement."
"We have had similar applications in the past", Blum said. "The Linear Beam system Serapid offers is the best we have used. This system is quieter and has very smooth movement, our customer even commented on how quiet and smooth the movement is."
About Serapid
The award winning lift, quick die change and horizontal transfer system provider, Serapid, Inc. (http://www.serapid.com), specializes in Rigid Chain Technology for applications in diverse industries including architecture, nuclear, medical, defense, steel, automation, engineering, manufacturing, theater, and entertainment. Serapid has a longstanding commitment to continued innovation in product design as well as to providing leadership in the advancement of engineering practices worldwide.