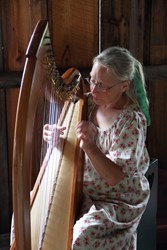 The stories are not my biography; they are a biography of the farm itself.
Fennville, MI (PRWEB) September 09, 2013
Joan Donaldson and her husband John are cultivators: as blueberry farmers on one of the oldest certified organic farms in the state and within their tight-knit community as they celebrate the arts and the spirit of working together.
In her new book, "Wedded to the Land: Stories from a Simple Life on an Organic Fruit Farm," Donaldson retells her uniquely pastoral experiences based on nearly four decades of farm life, from pruning blueberry bushes to setting up an off-the-grid electrical system, to raising a timber-framed barn with a hundred friends.
"The greatest theme of my book is the importance of teamwork," said Donaldson. "Although John and I have endured droughts, lost crops to storms, and watched our sons leave the farm; we have drawn strength from the land and our faith. Together with our friends and family, we worked through the challenges."
As the demand for organic food continues to expand, "Wedded to the Land" stands as an illustrative and informative account of life on an organic fruit farm. Donaldson hopes to help people visualize her agrarian world and see the wonders of working in tandem with nature.
"Relationships are important for all of us in every situation: relationships to the land, to the community, to our spouses, and to God," said Donaldson. "The stories are not my biography; they are a biography of the farm itself."
"Wedded to the Land"
By Joan Donaldson
ISBN 978-1-44497-8550-5
Retail price: $13.95
Available: Baker and Taylor, Amazon, Barnes and Nobles and other vendors.
About the Author
For almost 40 years, Joan Donaldson has farmed certified organic blueberries near Lake Michigan. Her essays have appeared in Mary Jane's Farm, Michigan History, The Christian Science Monitor, and she writes features for her local NPR affiliate, WMUK. Her previous novel, "On Viney's Mountain," represented the State of Tennessee at the 2010 National Book Festival, and the book won the 2010 Friends of American Writers Award.
---
**FOR IMMEDIATE RELEASE**
EDITORS: For review copies or interview requests, contact:
Emily Wilson | 317-275-2057 | ewilson(at)bohlsengroup(dot)com
(When requesting a review copy, please provide street address.)