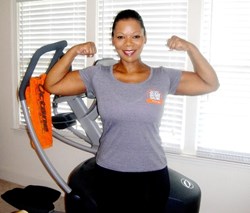 I got a great introduction to the machine and learned lots of exercises that I wouldn't have thought of doing otherwise.
Brooklyn Park, MN (PRWEB) September 09, 2013
After 30 military spouses won Oprah's must-have holiday gifts in November 2012 as part of Oprah's Favorite Things 2012, Octane Fitness, LLC led them through a month-long workout program on their free Octane Q37ci elliptical machine, which was part of the massive prize package.
"Because we are passionate about our mission to fuel people's lives with superior workouts, we were eager to help each of the military spouses in Oprah's giveaway benefit from using our elliptical," said Tim Porth, the executive vice president of product development and marketing at Octane Fitness.
Collaborating with Chris Freytag, a leading fitness professional, author and the fitness editor of Prevention magazine, Octane invited the military spouses to participate in a free 30-Day Challenge in June to jump-start their workouts and boost their fitness levels. Twenty individuals took advantage of the program and received Octane CROSS CiRCUIT kits and CROSS CiRCUIT workout DVDs.
Freytag designed a program with five to six workouts a week, incorporating steady-state cardio, interval training and combined cardio and strength CROSS CiRCUIT workouts, ranging from 20-45 minutes each. Variety and consistency were incorporated to help participants make progress toward their individual goals in the short 30-day duration.
Because participants were located across the United States, a private Facebook group allowed the spouses to ask Freytag questions, share successes and challenges and offer support to one another.
For additional motivation, Octane sent participants workout cards and an autographed copy of Bob Greene's The Best Life Diet. (Greene is Oprah's trainer). At the end of the program, each person received a Military Wives 30-Day Challenge T-shirt.
"I loved the schedule! Not only did I not have to think about what to do each day, but I got a great introduction to the machine and learned lots of exercises that I wouldn't have thought of doing otherwise," said Rebekah S.
In an online survey after the program, 70% of participants reported being "very satisfied" with the experience, and the remaining 30% were "somewhat satisfied," noting that they had a desire for greater weight loss.
"The exercising has gotten much easier; I recover from feeling sore much faster, and I'm able to do much more than I could at the beginning," reported Ingrid H.
Feedback indicates that all of the participants continued to use their elliptical to exercise, with two-thirds of them doing so 2-5 days each week.
Octane Fitness Background
Relentlessly fueled to reinvent low-impact cardiovascular exercise, Octane Fitness has perfected the elliptical cross trainer, introduced a new category with the xRide recumbent elliptical, designed strength-infused cardio with the unique CROSS CiRCUIT and now leads exercise in an entirely new direction with the LateralX. Defined by standout innovations, and driven to deliver more effective, efficient and rewarding workouts, Octane is engineering elliptical domination.
Find Octane at http://www.Facebook.com/OctaneFitness. Images are available; contact Julie King at 847.638.1582 or jking(at)octanefitness(dot)com. For more information, contact the company at 888-OCTANE4 (888-628-2634) or http://www.octanefitness.com. Octane Fitness, CROSS CiRCUIT and LateralX are registered trademarks of Octane Fitness.