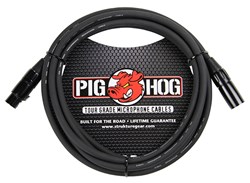 Petaluma, CA (PRWEB) September 16, 2013
Tour-grade instrument, speaker and microphone cables from PigHog are now available in new & improved packaging, designed for high visibility, and easy shopability. PigHog is dedicated to helping musicians stand out in the crowd, and the new packaging comes in response to growing demand for highly reliable cable, readily available and easy to find at popular local music shops.
PigHog cables are strategically overbuilt to withstand even the harshest conditions, and are known for their tour-grade durability. All PigHog Cables feature extra-thick 8mm wire, performance quality connectors and tension-resistant stress relief for maximum durability. If that's not enough, PigHog's "no questions asked" lifetime guarantee makes these cables the perfect solution for even the toughest situations.
With a comprehensive selection of options, at aggressive, ready-to-sell prices, PigHog cables are the perfect gift for the heavy-duty musician on your list this holiday season.
Visit us online at http://www.pighogcables.com
PigHog Cables are manufactured by Strukture music accessories, an Ace Products Group brand. Available in a variety of industrial-strength options for instrument, microphone and speaker, all PigHog cables are designed to provide ultimate durability in the most grueling conditions. Whether on tour or in the studio, PigHog cables deliver the performance and reliable sound musicians demand.