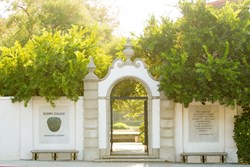 Gabby Giffords is an inspiration to women and men across the country and around the world.
Claremont, CA (PRWEB) September 06, 2013
Former U.S. Representative Gabrielle Giffords '93 will be honored by Scripps College on Sept. 21 with the College's highest level of recognition, the Ellen Browning Scripps Medal, announced Scripps College President Lori Bettison-Varga today.
The medal, named after the school's founder, has been given only twice: to first lady Hillary Rodham Clinton in 1994 and former U.S. Supreme Court Justice Sandra Day O'Connor in 1998.
"Gabby Giffords is an inspiration to women and men across the country and around the world," Bettison-Varga said. "Her exceptional commitment to public service has strengthened our country. She demonstrates the courageous leadership of our founder Ellen Browning Scripps who aspired throughout her life to advance opportunities for women and all of society."
Giffords is known nationwide for her consensus-building leadership in Congress and resilience in the face of violence. Giffords was shot in the head at a Congress On Your Corner event in Tucson in January 2011. Resigning from Congress one year later, Giffords said, "I will return, and we will work together for Arizona and this great country."
She was the youngest woman elected to the Arizona State Senate, where she served from 2000-2005, and later in Congress from 2006-2012. She credits her success to her values of kindness, candor, and hard work. She has fought for legislation to help working families, improve U.S. security, and advance education.
Giffords gave a powerful 2009 Commencement talk at Scripps on the importance of public service and living a life of integrity, saying, "The safety of the world depends on your saying 'no' to inhumane ideas. Standing up for one's own integrity makes you no friends… yet defiance of the mob, in the service of that which is right, is one of the highest expressions of courage I know."
"I am very humbled by this honor," said Giffords. "My time at Scripps taught me so much, including the importance of helping other women, the value of public service, and the desire to help build a stronger nation and a better world."
The College awards the Ellen Browning Scripps Medal to women whose pioneering accomplishments make a significant difference in the life opportunities of other women. A reporter, suffragist and philanthropist, Ellen Browning Scripps founded Scripps College in 1926 to develop students who can "live more confidently, courageously, and hopefully."
In early 2013, Giffords and her husband, Mark Kelly, retired Navy Captain and NASA astronaut, formed Americans for Responsible Solutions — its aim is to encourage elected officials to stand up for solutions to prevent gun violence and protect responsible gun ownership by communicating directly with the constituents who elect them.
After graduating from Scripps, Giffords spent a year in Mexico as a Fulbright recipient and went on to earn an MA degree in regional planning from Cornell University.