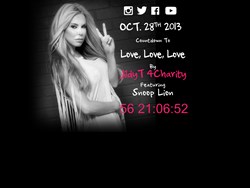 'You may say I'm a dreamer, but I'm not the only one. I hope someday you'll join us. And the world will live as one.' - John Lennon
Los Angeles, California (PRWEB) September 08, 2013
Indie Pop Rocker JildyT 4Charity/Hollywood Hippie Records will be debuting her release of Love, Love, Love Featuring Rapper Snoop Dogg Aka Snoop Lion on October 28th, 2013. The 37 year old entrepreneur, singer/song writer works endlessly for the cause of Domestic Violence.
People matter. Hollywood Hippie Records is on a mission to change the world. With a knowledge that each person matters, we are creating music projects with a purpose to not only drive awareness but to fund socially conscious movements.
Listen consciously. Customers can purchase music featuring many of their favorite popular artists and Hollywood Hippie Records will give a portion of the sale to support an organization selected for that project. Our first organization is the https://jenesse.org, a domestic violence intervention program in South Los Angeles that shelters victims and their families from domestic violence and provides programs for recovery from their abuse.
Love is a verb. Hollywood Hippie's goal is to activate a generous spirit of giving that benefits everyone. There are millions of people who buy music who have never supported a socially conscious organization before. So, we thought we could combine the two and make it easy to give money to support a cause. Our goal is to activate inherent concern and love for others through our music.
Do good and have fun. Pretty self-explanatory. Hollywood Hippie's first single release appropriately entitled "Love, Love, Love" features our exclusive recording artist JildyT with Snoop Lion aka Snoop Dogg. Need we say more?