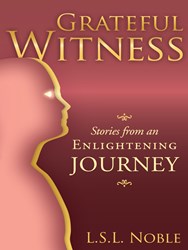 This spiritual autobiography follows the Noble on her journey of enlightenment as she encounters mystical and magical experiences.
Wilmington, NC (PRWEB) September 09, 2013
In 2008, L.S.L. Noble was looking forward to taking a spiritual pilgrimage to India. However, only days before her trip she became gravely ill and was unable to travel. While Noble was bedridden stateside, terrorists attacked Oberoi Hotel in Mumbai where her fellow pilgrims were staying – two of whom ultimately died and many more were wounded.
Such fateful occurrences have happened to Noble frequently throughout her life, which she chronicles in her new book, "Grateful Witness." This spiritual autobiography follows Noble on her journey of enlightenment as she encounters mystical and magical experiences.
The otherworldly and metaphysical experiences contained in "Grateful Witness" will expand the reader's evolutionary awareness. Noble's tale takes a unique approach in helping individuals find spiritual balance.
In the book, Noble also explores how mediation affects health and healing of the mind, body and spirit.
"'Grateful Witness' is different from other books in the market because rather than a 'how to' teaching approach, 'Grateful Witness' reveals, through stories of first-hand experiences, the mystical process of a journey enlightening," she says.
Noble encourages readers to liberate themselves from the unconscious and experience the bliss and beauty of life.
Grateful Witness
By L.S.L. Noble
ISBN: 978-1-4525-7283-3
Available at Amazon, Barnes and Noble and Balboa Press
About the Author
L.S.L. Noble began dancing at the age of three and later became an accomplished artist. Her experiences in the fine arts inspired her to write a spiritual autobiography, encouraging others to discover their natural creative expression. She currently resides in Surf City, North Carolina with her son, Lee, where she enjoys spending time in the sun, sand and water.
# # #
***FOR IMMEDIATE RELEASE***
EDITORS: For review copies or interview requests, contact:
Emily Wilson | 317-275-2057 | ewilson(at)bohlsengroup(dot)com
(When requesting review copies, please provide mailing address.)