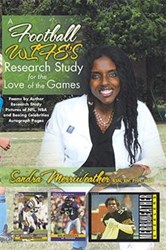 San Francisco, CA (PRWEB) September 09, 2013
As a registered nurse and NFL wife, Sandra Merriweather has seen the devastating results of concussions.
In her new book, A Football Wife's Research Study for the Love of the Games, she offers an in-depth review of her extensive research on the signs and symptoms of concussive head injuries.
It shares the results of a research study designed to review the areas of concussions and head injuries from a different angle and to shed light on the areas that need improvement.
Merriweather hopes the book will provide readers with the most up-to-date facts and information to ensure success and prevention.
"My goal is for readers to understand how concussions occur and learn to be able to observe changes in conditions," Merriweather says. "Mostly I want them to learn how to save lives."
A Football Wife's Research Study for the Love of the Games offers readers a unique view into the world of health and contact sports.
A Football Wife's Research Study for the Love of the Games
By Sandra Merriweather
ISBN: 978-1-47977-630-6 (hardcover), 978-1-47977-629-0 (softcover), 978-1-47977-631-3 (E-book)
Hardcover price: $29.99
Softcover price: $19.99
E-book: $3.99
Available at amazon.com, barnesandnoble.com, xlibris.com
About the author
Sandra Merriweather is the wife of former linebacker Michael Merriweather of the Pittsburgh Steelers, Minnesota Vikings, Jets and Green Bay Packers. She is a public speaker as well as published author. In addition, she's a registered nurse and has obtained multiple degrees and certifications in the medical profession studying respiratory therapy, biological science, nursing and psychology. Merriweather also serves communities as a member of Off the Field Player's Wives Association, SBNA Nurses Association of Sacramento, California, the California State Sheriff's Association and the NAACP/Los Angeles Chapter. She is also a member of CSNO (California State Nurses' Organization) and the NASN (National Association for School Nurses).
# # #