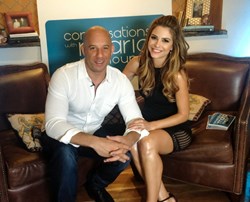 Los Angeles, CA (PRWEB) September 20, 2013
Vin Diesel made an appearance on Maria Menounos' new online talk show, "Conversations with Maria" on September 4, 2013. Fresh off receiving his star on the Hollywood Walk of Fame last week, Vin opened up like he hasn't before with longtime friend and confidant Menounos. In the interview Diesel talked about the deal that almost kept him from making "Riddick," on his dream of directing and starring in "Hannibal," his confirmed interest in joining "The Last Witch Hunter" and announcing that he's officially joined the cast of "Guardians of the Galaxy" as classic character Groot.
On Making "Riddick"…
8:00
I'll tell you something I haven't told anybody. There was some fine print in the deal that was constructed that if I did the cameo in Tokyo Drift the studio would just give me Riddick back and say "you can make Riddick"… For the last 10 years the Riddick audience has been wanting the continuation of that mythology. When I made that deal to do the cameo, Universal was never anticipating doing (Fast and Furious) 5, 6, it was a miracle if 4 was going to work. They were ready to give up on the franchise…they gave me a year and a half. If I couldn't make the movie in a year and a half the rights would revert back to Universal… There was some thinking that if we give Vin the option, he'll never be able to make it because he'll never have time to do it (MARIA- but they don't know you… but I think they're figuring it out)… In 2011, if I waited 2 weeks more all the work that had been put into that would have been for naught because the rights would have gone back to Universal and I never would have the ability or the right to make that movie. It's a miracle that Riddick exists.
On "Riddick" as Semi-Autobiographical
16:20-19:30
I think we all can identify with being underestimated… where we might have felt given up on. I'm sure we've all felt overlooked. And I think this character epitomizes that. He is a guy that is perpetually misinterpreted and misread and ruled out really. But when the studio wants to make money… when it's about keeping the studio afloat or getting off a planet, they're either going to go to Riddick or they're going to go to Vin… It's the way in which Riddick's character is unraveled….There's a strange parallel to the way my identity for myself has unraveled I came into this world with sort of very mysterious conditions. I didn't know who my biological father was…The parallel between the Riddick character and my own quest for identity and understand how I got to this planet is very similar to Riddick kind of wondering how did he get to this place… there's something very powerful about the affinity between the character and my own life and something very therapeutic.
On Steven Spielberg's Notes For the Making of "Hannibal"
35:20
Steven Speilberg gave me some great notes on the project. A lot of the books that we read about Hannibal speak about his accomplishments and his victories and how clever he is and was as a military genius. But Steven Speilberg wanted a little bit more set backs… he just said "Vinny, you've got to have more set backs for our protagonist" and that helped the process because he was right.
On Starring In and Possibly Directing "Hannibal"
38:45
When I think about Hannibal and about when I'm trying to answer the biggest riddle in Hollywood, would I foolishly step into that director's chair after having not directed a feature film in so long and having the weight of playing the hardest character of my life… 5 years ago Hollywood would have made that very east fir me and said "You're not directing this." After the last 5 years I'm hearing Executives suggesting me directing it and it blows my mind and I just try to play it cool….Somebody asked me "Vin, what's it like waking up every morning and being Vin Diesel." And I don't think like that. I wake up thinking "I haven't made Hannibal yet."
On "The Last Witch Hunter"
49:00
I met with this great director Breck Eisner and his enthusiasm is amazing, you can feel it. It's definitely on the plus side of things… the next couple of years is really going to be dictated by scheduling. Is it something I'm interested in? Yes. Is it something I'd like to shoot? Yes. Do I like starting a new genre and …. Making a movie with Lions Gate, I do like what they've done with Hunger Games… Twilight… I'm interested in exploring that.
On Playing GROOT In Guardians of the Galaxy…
56:00
(Marvel, following Vin's appearance at ComicCon teasing a possible Marvel offer) We want to do something for 2016 but, if possible, we want to answer this growing request for something now. I don't have 6 months to play a character in the immediate future… there was no way I was going to be able to deliver. We were at a stalemate… and then Kevin Feige and James Gunn came up with something brilliant… they sent over the script to guardians of the galaxy and sent over a giant book of conceptual art… I look at the visuals first and am like "Oh my god, this is some of the best conceptual art I've ever seen in my life." But the request was a little… hmm… they want me to play a tree. You want Vin to talk, he's going to be talking. And they said there was something akin to Iron Giant about this tree, and everyone know I'm a sucker for iron giant. But I'm still like… And another thing that nobody knows is that I always loved the Andy Circus portrayal of Gollum as an actor and performer… If Peter Jackson would have asked me to play a dragon, I would have loved to play a dragon… when Kevin Feige and James Gunn said we want you to voice a character that historically is only known to say one line it was not dissimilar to Keven Twohy saying I want you to do Riddick, but I don't want you to interact with anyone in the whole first act. There was something so fun and challenging about that. So where someone else would have said, "This is crazy, one line…I thought of it as an insanely fun challenge… To make sure I was on the right track I took the book of conceptual art into the room with my kids and opened it up to the page where all 5 of the guardians of the galaxy characters are and I said "Who do you think they want daddy to play?" and my daughter so quickly pointed to Groot. From that moment on, I was Groot. I never knew how much it would mean to my kids, if they see a tree, a tree form, any tree they say "oh that's daddy's character" already, and I haven't even done the mo cap or the voice over yet.
Links to Vin Diesel's full appearance can be found on conversationswithmaria.com
Website: http://conversationswithmaria.com/2013/09/cwmm-vin-diesel/
iTunes: https://itunes.apple.com/us/podcast/conversations-maria-menounos/id600107405?mt=2
YouTube: http://www.youtube.com/watch?v=Fw4Fg2Y4D2U
Vin Diesel stars in Universal Pictures and One Race Films' "Riddick," in theaters Friday, September 6th. http://www.riddick-movie.com
Conversations with Maria Menounos is a one-on-one interview series featuring Extra Host Maria Menounos engaging stars and social influencers in Charlie Rose style interviews for the web. Guests from all facets of the entertainment industry discuss their journeys, passions, inspirations and ambitions with Maria in a relaxed, long form setting. From becoming the youngest person to host and report for Entertainment Tonight, The TODAY Show and NBC Nightly News to becoming the only reporter to interview the entire Obama family together (an event ABC News heralded as one of the defining moments leading to his historic 2008 victory), there is no host more suited than Menounos. In 2011, she launched online broadcast network, AfterBuzzTV.com, which plays to weekly audience of 20 million people from over 75 countries and in 2013, she launched her latest online venture, Conversations.
Produced by Underman/Omegagirl Productions in partnership with Telepictures, portions of Conversations with Maria Menounos will be featured on Extra. Long form interviews are available on iTunes.com, extraTV.com and on all mobile platforms. Prior guests include movie star Zoe Saldana, media mogul Perez Hilton and Hollywood legend Barbara Eden. For further information about the show, visit conversationswithmaria.com
###