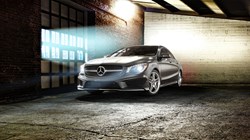 The CLA is a car that does not confuse mid range with mediocrity. Its powerful design underscores the sporty side of the Mercedes-Benz brand.
Arlington, VA (PRWEB) September 20, 2013
As a new four-door coupe, it follows the concept of the CLS-Class, the modern Mercedes-Benz classic whose design pattern has ignited more than its fair share of imitators since its 2003 debut. The interplay between concave and convex surfaces, breathtakingly sporty proportions and powerfully dynamic design give the CLA-Class an unequivocal look. The CLA-Class features a muscular front bumper, frameless door glass and a diamond-block grille that proudly displays the prestigious three-pointed Mercedes-Benz star on the vehicle's hood. The available Sport Package adds an aerodynamic body kit consisting of a beefier front bumper, side skirts and an air diffuser out back. 18-inch alloy wheels and a model-specific grille finish off the look, while drilled rotors come standard up front.
The CLA-Class lineup consists of the CLA250, which will also be available as a four-wheel drive vehicle, the CLA250 4MATIC®, in February 2014. The highly-anticipated CLA45 AMG® will be available in November, setting new standards for high-performance coupes. The CLA250 is powered by a turbocharged and direct-injected 2.0-liter four-cylinder engine and linked to a seven-speed, dual-clutch transmission. The mill sends 208 horsepower and 258 lb-ft of torque to the front set of wheels. The CLA-Class reaches 60 mph in 6.7 seconds and accelerates to a top speed of 149 mph. A 5.8-inch color touch screen comes standard in the CLA-Class, although it may be upgraded to 7.0 inches by opting for the Multimedia package that adds the Mercedes-Benz COMAND® system, which integrates the car's audio, navigations, climate control and connectivity functions into a single unit. A panoramic sunroof is a stand-alone option on any CLA-Class, as are leather seats, summer tires, parking assist, blind-spot monitors, and heated front seats.
Mercedes will offer the exclusive CLA-Class Launch Edition during the car's first twelve months on the market. The limited-edition model combines distinctive Mountain Grey metallic paint and black 18-inch alloy wheels, while the interior is upholstered in black with bright yellow stitching. A sunroof, navigation and surround-sound system come standard.
Among its standard safety features, the 2014 CLA-Class carries a new COLLISION PREVENTION ASSIST® function. Using radar, the CLA-Class can alert the driver of upcoming obstacles when traveling at more than 4 mph, and can calculate the amount of brake force needed to avoid an impact. Also standard are ATTENTION ASSIST® and its coffee-cup reminder to pull over and avoid drowsy driving, and a driver knee airbag. Safety options include adaptive cruise control, blind-spot monitors, lane-keeping assistance and parking sensors with parking assist.
The sales team at Mercedes-Benz of Arlington is pleased to welcome this striking new coupe to their Mercedes-Benz showroom family this September. Dr. Dieter Zetsche, Chairman of the Board of Management of Daimler AG and Head of Mercedes-Benz Cars, says, "The CLA is a car that does not confuse mid range with mediocrity. Its powerful design underscores the sporty side of the Mercedes-Benz brand."
About Mercedes-Benz USA
Mercedes-Benz USA (MBUSA), headquartered in Montvale, New Jersey, is responsible for the distribution, marketing and customer service for all Mercedes-Benz products in the United States. MBUSA offers drivers the most diverse line-up in the luxury segment with 12 model lines ranging from the sporty C-Class to the flagship S-Class sedans and the SLS AMG® GT.
MBUSA is also responsible for the distribution, marketing and customer service of Mercedes-Benz Sprinter Vans, and smart products in the U.S. More information on MBUSA and its products can be found at http://www.mbusa.com, http://www.mbsprinterusa.com and http://www.smartusa.com.
For full bios and photos visit the MBUSA Media Site, http://www.media.mbusa.com.