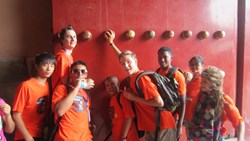 The positive testimonies we receive on a regular basis reaffirm our dedication to providing top-notch educational programs that will impact students for the rest of their lives.
San Jose, CA (PRWEB) September 07, 2013
Sino Language Gateway (SLG), a leading provider of Chinese study abroad cultural immersion programs for youth, today shares personal testimonies from students and families whose lives have been impacted by SLG cultural learning programs. As a Chinese language and culture summer program organization, SLG is not only delighted to help families carry on the Chinese culture from one generation to the next, but is also pleased to be part of lifelong memories.
Monvalee Guachami, a mother from Thailand with two children shared her testimony of how important it was to her family to build a strong foundation in Chinese language and culture. In 2012, Guachami and her husband were highly enthusiastic about the SLG summer program and decided to register their children for the program. However, her husband was diagnosed with cancer soon after, so the family decided to cancel the summer camp due to the expensive cancer treatment costs. Before summer of 2013, Guachami got back in touch with SLG with the unfortunate news that her husband had passed away from cancer, but she was determined to re-register her children for the summer program. Despite the family's severe loss, Guachami said that it was also her husband's wish that their children move forward and learn Chinese for the betterment of their future. The children ended up joining SLG this past summer, honoring their father's wishes and immersing themselves in the rich opportunity to learn Chinese.
SLG programs not only help improve students' grasp of the Chinese language, but have also been paramount to connecting youth with their Chinese cultural roots. Kaelyn Martin, an 18-year-old high school senior from Bonita Springs, Florida, was adopted from China by a loving American family when she was only 4-years-old. The moment the Martin family heard about SLG and its program offerings, they immediately registered Kaelyn for SLG's Language Immersion program and Leadership & Service program so that she could seek and explore her native tongue and cultural heritage. While in China, Kaelyn expressed her great enthusiasm for the programs and even inquired as to if she could return the following year even though she will be 19-years-old, exceeding the maximum age limit.
Many students found that they have developed their love for Chinese by participating in the fun and extensive culture activities. Some of them return to SLG summer camp year after year seeking to build a solid foundation of Chinese language. This year, among all others, there are Jaime from Westlake, LA, Tommy from Salt Lake City, UT, and Nicole from Tiburon, CA. These 14 years old have told SLG that they will continue studying Chinese during their school year.
"The positive testimonies we receive on a regular basis reaffirm our dedication to providing top-notch educational programs that will impact students for the rest of their lives," said Anna Yu, director at SLG. "When our students return home, many parents notice marked improvement with their children's Chinese speaking ability. Hearing these stories pushes us at SLG to continually strive to provide the best foundations for students to build a brighter future."