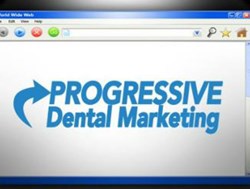 Dunedin, FL (PRWEB) September 06, 2013
Progressive Dental Marketing, a laser dentistry focused marketing company, now offers staff training to every client to complement their marketing efforts. Marketing for dentists, periodontists, oral surgeons, endodontists and orthodontists from all over the country, PDM is familiar with conversion set-backs dental practices experience. The training program offers a consistent approach to building phone skills to ensure clients experience high positive return on their investment.
One large issue dental professionals experience is a lack of consistent new patient conversion. The majority of dental practices are not properly set up to receive, convert and track the results generated for them from marketing efforts. PDM trains every doctor's staff before any marketing is launched. It is of paramount importance to any dental clinician to be sure that their staff is integrated into their marketing strategy and can clearly communicate their message. It is also critically important to staff the proper personality in a front office. VP of Marketing Gerritt Cora offers these comments on his training calls:
"Our clients do not care about driving traffic or phone calls. They care about getting new, qualified patients who accept treatment. Unfortunately, without the proper training, they can end up leaving 50 percent of the opportunities on the table."
Points of Discussion Before Any Marketing Begins:
1.) Phone Training – This is especially important when marketing for specific surgical procedures targeted to high dollar patients. Many patients have a high degree of anxiety when it pertains to dental surgery. If the staff is able to ascertain the patient's needs, create value in the treatments, build confidence in the doctor's abilities, and overcome objections, this can mean the difference between a 20:1 ROI and a 3:1 ROI for the doctor. PDM clients' experience a 15 to 20 percent increase in scheduled appointments when properly implementing PDM recommendations.
2.) Communication Based on Personality Type – PDM trains staff on reading and communicating with various patient personalities in order to provide a seamless experience and increase patient acceptance.
3.) Treatment Planning and Sales – Creating value for your services is essential to having patients accept a treatment plan. PDM will suggest patient financing options and ensure that offices have the proper patient education materials.
Most dental professionals who are currently marketing attribute success or failure to the amount of traffic they drive to their website or the number of qualified phone calls. CEO and President Bart Knellinger disagrees.
"The effectiveness of any marketing campaign is not limited to web analytics or the volume of phone calls," said Knellinger. "In order to determine a clear level of success or failure, analytics and ratios from the marketing in addition to the staff's ability to convert must both be evaluated."
The combination of creating a customized marketing strategy, training the staff, launching the marketing, and tracking the web analytics, phone calls and conversion rates results in full transparency for both PDM and the doctor.
To learn more about PDM's staff training program, visit their website at http://www.progressivedentalmarketing.com and call today!
About the Company
Progressive Dental Marketing has "changed the game" in regards to marketing for high dollar surgical cases by implementing a Full-Circle Marketing™ approach. PDM is the leading dental marketing company for attracting targeted patients through online marketing, seminars, direct mail, TV, radio and referral programs. PDM is the only marketing firm that mandates its clients to participate in phone and treatment planning training before the marketing commences. The majority of clients obtain a fantastic ROI and staff members are ready to handle the increase in new patient calls and activity. PDM maintains a 97 percent client retention rate, which is leading by a large margin among dental marketing companies! PDM is based out of Dunedin, FL and always offers a complimentary initial marketing evaluation. The staff includes dedicated account managers and consultants who are available to answer any and all questions. To learn more about PDM, visit their website at http://www.progressivedentalmarketing.com and call (727) 286-6211.