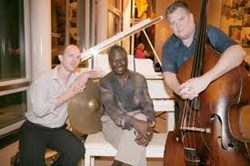 'John follows in the tradition of Horace Silver, Monk, Herbie Nickols and Elmo Hope. John's tunes are original and very interesting in structure.' - Composer and educator Roger Boykin
Dallas, TX (PRWEB) September 11, 2013
On Thursday, September 12th, the Jazz in the Atrium series will present in concert the John A. Lewis Trio from 6:00 until 8:30pm.
The Jazz In The Atrium series is a long running concert series that presents jazz every Thursday in the atrium of the Dallas Museum of Art located at 1717 North Harwood in downtown Dallas.
The series is coordinated and hosted by Mr. Wendell Sneed.
The John A Lewis Trio consists of pianist and composer John A Lewis, bassist Lincoln Apeland and drummer Merik Gillett.
The Trio has been performing together for over three years. They have performed at jazz clubs and restaurants though-out the Dallas-Ft. Worth area and in concert at such venues as The Sammons Center for the Arts, the Sandaga 813 Music Emporium and previously at the Jazz In The Atrium series.
The Trio will be performing original music written by composer pianist John A Lewis.
The style of the music ranges from straight ahead jazz with a Monkish inclination to a sixties Milesish leaning and also tunes that displays latin tinged grooves. The Trio performs in a fluent, fastidious style. The music is compelling but always accessible.
Included in the performance will be selections from their two critically acclaimed recordings "Progenation" and "Live at the South Dallas Cultural Center" also music from soon to be released recording "Alchemisity" and music from their recently released CD "Coalescence".
You can check out the activities of the John A Lewis Trio on Facebook and Twitter and visit the John A Lewis website at Johnalewisjazz.com. You can purchase the recordings of the Trio and music by John A Lewis at CDbaby.com.