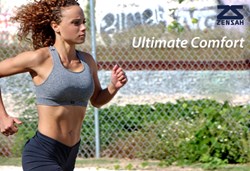 Wearing the right sports bra can have a huge impact in preventing chafing and ensuring the runner is as comfortable as possible.
Miami, FL (PRWEB) September 07, 2013
The start of marathon season means runners must plan what they will wear for training and most importantly on race day. Key items include the right shoes, socks, and for women: the right sports bra. Zensah®, a Miami-based compression apparel company, has the best sport bras for half-marathon and marathon runners. Zensah® incorporates technology and color into their seamless apparel, and now offers the sports bra in 15 different colors including neon orange, aqua, and heather grey.
In 2013, more then 1.5 million runners will participate in either a half-marathon or full marathon. On average, runners set aside 3-4 months for training. Throughout this training period. runners will face challenges like soreness, injury, and even chafing. Considering all of these factors, it is important to feel dry, supported, and comfortable on the big day. Zensah's® Seamless Running Sports Bra is the most comfortable sports bra for women. It provides support, keeps runners dry, and prevents chafing.
Zensah's Seamless Running Sports Bra features seamless construction to eliminate chafing, a racerback for free movement, and is body mapped to add support and ventilation. In addition, the bra incorporates a moisture wicking and antimicrobial 4-way stretch fabric to prevent stink and ensure ultimate comfort. The sports bra is available in a variety of colors to match with any running outfit and offers support for sizes A-C.
Spokesperson for Zensah®, Parker Robinson, says, "There are a lot of elements that can affect whether an athlete has a good run. Wearing the right sports bra can have a huge impact in preventing chafing and ensuring the runner is as comfortable as possible. Our sports bra was designed with the softest fabric and best fit to offer the unmatched support for athletes."
Zensah Sport Bras are available in specialty running stores across the country. Melissa at Fleet Feet Savannah says, "We are selling the bras like crazy!" The comfortable fabric and variety of colors make it a great piece for runners.
About Zensah: Zensah® is a Miami-based company, specializing in sports compression apparel. Their seamless compression socks, compression sleeves, full product line are praised by athletes and fitness enthusiasts, including running, cycling, triathlon, yoga, basketball, golf, and soccer. Zensah® offers compression products for performance and recovery. According to Leisure Trends Group Specialty Running RetailTRAK™, Zensah® is one of the leading sports bras in the USA.
Parker Robinson
marketing(at)zensah(dot)com
ZENSAH® COMPRESSION APPAREL
(305) 935-4619