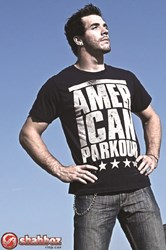 Vero Beach, FL (PRWEB) September 08, 2013
American Ninja Warrior, now in its 5th season, is the US version of a Japanese competition that pits the fastest, strongest, most agile and fearless athletes on the planet for the chance to win $500k and join an elite group of only 3 men to ever complete the mother-of-all obstacle courses, Midoriyama.
After qualifying first in the regional Miami competition and clearing Stage 1 of the Las Vegas finals last week, Drew Drechsel is intensifying his bid to become the first American ever to achieve total victory. He faces dozens of punishing obstacles set in a brutal four-stage course, called Midoriyama, that will push his endurance to the limit.
This is Drew's third season and especially significant as he comes back to full fitness from a grueling knee injury. Drew uses Greens Plus products, including Superfood powders, energy bars and protein bars, to achieve optimal fitness and peak performance.
Follow Drew at http://www.drewdrechsel.com, check out his freerunning videos on Youtube, and watch the American Ninja Warrior Finals this Monday night at 8pm on NBC.
Greens Plus products are available at Whole Foods Markets, Vitamin Shoppe, Trader Joe's, Walgreen's Pharmacies and other fine health food stores, or online at http://www.greensplus.com
About Greens Plus
Greens Plus has been helping people live healthier, happier lives since 1989. The Original Superfood Company produces 100% natural, non-gmo and certified organic Superfoods, Camu Kaze Energy Shots, and the #1 selling Chocolate Energy Bar in America. For more information, visit http://www.greensplus.com or call Toll-free 1-800-643-1210.