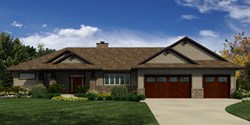 This residence demonstrates that an exceptionally green and healthy home can look mainstream and be competitively priced.
St. Paul, Minnesota (PRWEB) September 10, 2013
One of the homes featured on the Parade of Homes this Fall is a super-green and healthy home by Amaris Homes. This 3,600 square foot rambler has been designed and constructed to meet the strict green requirements of both MN Green Path (Master Certified*) and LEED for Homes (LEED v4 Beta Program**). Even more impressive is its status as the first U.S. Department of Energy Challenge Home in Minnesota.
As a Challenge Home, this residence is on the leading edge of high performance home construction. It also demonstrates that an exceptionally green home can look mainstream and be competitively priced.
The Press is invited to a press conference/tour to learn more about this home and the DoE Challenge Home Program.
WHEN: Thursday, September 19, 2013 • 10:30 am, Program at 11:00 am
Parade Home WHERE: #307, 1017 Oak Bluff Circle, St. Paul, MN
WHAT: Home Tour and Presentation about the DoE Challenge Home Program
WHO: Local Challenge Home facilitator, University of Minnesota Cold Climate Housing Program and builder Amaris Homes
About the Challenge Home Program:
The US Department of Energy's Challenge Home is all about demonstrating the possibilities in a home's energy and green performance. With a goal of zero net-energy use, a Challenge Home combines proscribed materials, techniques and products that offer superior energy efficiency and a renewable energy ready design (like solar), along with exceptional indoor air quality, comfort, safety and durability, plus effective water and resource conservation.
Challenge Homes truly are on the leading edge of modern construction using building science and a systems approach with proven innovations and advanced technologies. This home's current Home Energy Rating System (HERS) score*** is expected to test at 40 (the typical new home built to Minnesota code will test at around 80). When the planned solar system is added in 2014, the home will be able to give back to the grid almost as much energy as it uses, and have a HERS of ten or less.
Ultimately, high-performance, green homes built to the Challenge Home standards will provide outstanding value to future owners through:
1. Visionary design and construction -- assurance that a family's largest investment meets current as well as future expectations;
2. Advanced Technology -- innovations proven by Building America, DOE's world-class research program, are built-in;
3. Ultra-Efficiency -- protection against rapidly increasing utility costs, with the ability to go to zero net energy with renewables;
4. Comfort Plus -- even temperatures, managed humidity, and quiet in every room and every floor;
5. Health -- providing a healthier home by minimizing pollutants and providing continuous ventilation and effective filtration;
6. Durability – a home that will stand the test of time
7. Quality-Built -- advanced construction practices and process with independent verification for higher performance;
8. Exclusivity –- ensuring a best-in-class home that can command a premium at resale time.
Critical Components and Systems Include

A highly insulated building enclosure that meets or exceeds future energy code levels
Very airtight construction exceeding future code requirements
Whole-house balanced heat recovery ventilation system
Highly efficient windows optimized for our cold climate
State of the art heating and cooling equipment, delivery system, and controls
Meets EPA Indoor airPlus requirements for superior indoor environmental quality
Efficient water heating and delivery system
ENERGY STAR lighting, appliances, and fans
Renewable energy system ready design and features
Optional features for water efficiency, disaster resistance, and quality management
Minnesota's Green Path Master Certified: This highest level of MN Green Path certification is achieved by a home with a HERS score of no more than 50 plus at least 10 total points in each of the five areas of green construction: Energy Efficiency, Indoor Environmental Quality, Water Conservation, Resource Management and Site/Development. Points are offered for use of green construction materials, techniques and products per the Green Path checklist, which you can find online at http://www.MNGreenPath.org.
** Leed 4v Beta Program: LEED v4 is the next exciting step in the continuous improvement of the U.S. Green Building Council's Leadership in Energy and Environmental Design (LEED) rating system. LEED v4 includes a comprehensive technical update to rating system requirements. LEED for Homes is a voluntary rating system that promotes the design and construction of high-performance green homes and multifamily buildings. For more information visit http://www.LEEDforHomesMN.com.
*** HERS Score: Residential Energy Services Network (RESNET), a California-based national association of home energy raters and energy-efficiency mortgage lenders, created the Home Energy Rating System (HERS) index to ensure a standardized, performance-based measurement for energy efficiency in homes.
RESNET certifies their independent raters who conduct inspections in homes under construction to gather data, which is then fed into their computerized programming to establish the home's HERS Index as well as the ACH50 (Air Exchange index). The resulting HERS is indexed against a reference home, which is an imaginary home of the same size and shape as the home being rated, and based on the 2006 International Energy Conservation Code. The reference home scores a HERS Index of 100, while a net zero energy home scores a HERS Index of 0.
Any rating under 100 indicates better energy efficiency than the reference home; over 100 means the home will use more energy. HERS scores in older homes with little insulation, leaky windows and outdated construction techniques score well over 100. In Minnesota, a new home built just to meet our energy and building codes would test at about 80 HERS.