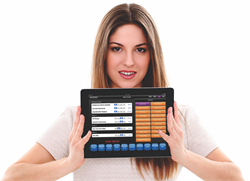 Las Vegas, Nevada (PRWEB) September 10, 2013
Next Gen Dine cloud point of sale now helps improve customer experience and staff efficiency with its sophisticated software and mobility. The point of sale is intended to cater to a restaurant's every need.
Next Gen Dine restaurant point of sale offers restaurants mobility to do table-side service. Servers can take orders and payments directly at the customer's table. This feature helps reduce order turnaround time which enhances the customer experience. Customers will be easily impressed with how fast their order was completed through Next Gen Dine.
When orders are placed on the Next Gen Dine tablet, orders are immediately processed to the kitchen where they are displayed on the Next Gen Dine Kitchen Display Unit. Orders remain on the Kitchen Display Unit until completed improving the staff efficiency. There will no longer be a need to have a printer in the kitchen with the Kitchen Display Unit.
With Next Gen Dine, restaurants can maximize staff efficiency, enhance customer experience, and help increase profits.
Next Gen Dine is the future of restaurant dining. For more information about the product or to find out how your restaurant can take part of Next Gen Dine, contact Paul Roberts, Managing Partner at 1-877-342-2218 or paul(at)nextgendine(dot)com. Follow us on Twitter, Facebook and LinkedIn.
About Next Gen Dine
Next Gen Dine is a product of Prelag Partners LLC.
Next Gen Dine is a cloud-based, mobile restaurant point of sale software designed for the iPad. Restaurant owners can now capitalize on the benefits of a full-featured POS system for a fraction of the cost of a traditional POS. Due to the mobility offered by the