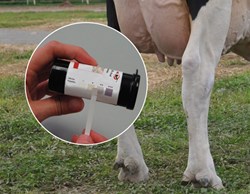 UdderCheck (tm) allows dairy producers to screen for mastitis right on the farm and have results instantly.
Moorestown, NJ (PRWEB) September 08, 2013
PortaScience, Inc., a New Jersey company, was recently awarded a grant from Feed the Future Partnering for Innovation to commercialize a milk quality test for small farms in Africa.
Feed the Future Partnering for Innovation is a program funded by U.S. Agency for International Development (USAID) and implemented by Fintrac, Inc. The program is focused on finding and commercializing agricultural technology that can help farmers in developing countries. It serves as a bridge that brings new technologies to market, changing the way small farmers do business by improving productivity and income.
PortaScience, Inc. was selected from more than 120 companies worldwide because of their novel technology that enables farmers to test milk quality and improve animal health. With this funding, African farmers will receive education concerning mastitis in dairy cattle, plus the UdderCheck (tm) test to screen for this costly disease. UdderCheck (tm) is currently marketed under the PortaCheck brand.
UdderCheck (tm) is a simple milk dipstick that detects lactate dehydrogenase (LDH) — an enzyme present in milk when cells are damaged during an udder infection. This new tool can help producers screen for mastitis, even at a subclinical level.
"Producers can now detect infection early and inexpensively to begin treatments that improve milk quality and animal health," says Mike Gavin, the president of PortaScience. "With a growing number of farmers owning dairy cows and the numerous changes in Africa's agriculture, UdderCheck (tm) can help improve both the quality of milk and the productivity of the developing dairy industry."
David L. Lee, Professor from the New Jersey Agricultural Experiment Station, the research and outreach arm of Rutgers, The State University of New Jersey, and Nathaniel F. Makoni, Ph.D of the African Breeders Services, Total Cattle Management Ltd. (ABS TCM) will provide both education and supporting services for the grant to farmers within Africa.
For more information, please visit http://www.PortaCheck.com, or call 1-866-500-7722.
###