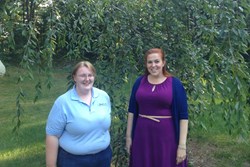 'I am very glad that Resident Power is available to NH residents,' said the $500 winner.
Manchester, NH (PRWEB) September 07, 2013
Resident Power launched the $500 sweepstakes last month. The program is available to all NH residents, customers and non-customers of Resident Power. With this program, Resident Power intends to continue to educate NH consumers about competitive electricity supply. "There are still many NH residents who do not realize that they can save money on their electricity bill by switching to a competitive supplier. With this program we hope to reach out to residents by increasing awareness that New Hampshire has options," says Bart Fromuth, Managing Director of Resident Power.
Last week, Resident Power announced Darlene of NH as the first winner of the $500 American Express gift card. Darlene was excited about the receiving the prize, "I've already started using the gift card to get supplies for my class and students, and to buy school clothes for my children. We, like everyone else, struggle and couldn't get our kids clothes to start their school year with as well as the supplies they needed. Anything left goes to my Christmas shopping fund to make sure my children's holidays are happy and bright." The gift card is expected to help the kids receive a few more items that they have "went without" in recent years.
Darlene praised New Hampshire's energy choice program stating that, "Not only is the gift card a big help, but switching to a competitive supplier also helps, I am very glad that Resident Power is available to NH residents. I've lived in NH for 15 yrs. and for so long I paid close to (and many times over) $400 a month for electricity. Having another option has cut my bill down to $255 a month."
All that is required to enter next month's sweepstakes is to be an 18 NH resident at least 18 years of age, you can enroll through Resident Power's Facebook Page. A winner is picked each month that the promotion is run, and if you don't win you can reenter for the next month.
Resident Power was the first to offer competitive electric choice in New Hampshire and has been serving customers since March of 2011. It celebrated its second birthday earlier this spring.
Resident Power is a family owned business and is part of the Freedom Logistics family of energy companies. Resident Power is the official electricity partner of the Retail Merchants Association of New Hampshire, and is the state's largest residential electricity aggregator.