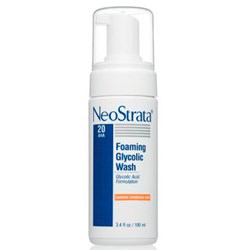 Neostrata Foaming Glycolic Wash comes packaged in an amphoteric delivery system to ensure the effectiveness of the AHAs in this Neostrata cleanser.
Anaheim, CA (PRWEB) September 25, 2013
The web store, DrSkinSpa.com, is a popular mainstay for consumers desiring the most up-to-date skin care developments on the market. The vastly effective face wrinkle cream lines offered at this multi-faceted e-commerce web site are what makes DrSkinSpa.com a leader in its field. The products sold at the DrSkinSpa.com site contain natural ingredients and incorporate the latest technological enhancements in their serums and packaging. DrSkinSpa.com is proud to present its latest addition of Neostrata Foaming Glycolic Wash.
Neostrata Foaming Glycolic Wash is a powerful skin cleanser and exfoliant. Its 18% glycolic acid concentration smoothes the texture of roughened, photo-damaged skin as it exfoliates dead skin cells. Here is a Neostrata cleanser that gets skin squeaky clean as it anti-ages with alpha hydroxy acid effectiveness.
With its 18% glycolic acid content, Neostrata Foaming Glycolic Wash is regularly recommended by dermatologists for those who are experienced users of AHAs and want skin that is clear, smooth, and younger-looking. In addition to its high glycolic acid content, Neostrata cleanser also contains 2% lactobionic acid for gentle yet effective exfoliation, cleansed pores and cell regeneration. Lactobionic acid is a less abrasive form of AHA that lets the glycolic acid in Neostrata Foaming Glycolic Wash do its work to smoothe and anti-age skin without the often accompanying skin irritation. So while Neostrata Foaming Glycolic Wash contains a high concentration of effective glycolic acid, the lactobionic acid offsets the possible redness or irritation some users experience.
Neostrata Foaming Glycolic Wash was featured on Prevention Magazine's Defy Your Age Challenge on The Today Show as one of the key products most useful in keeping skin healthy, smooth and young.
Desiree Johnson, the esthetician at DrSkinSpa.com, says, "Neostrata Foaming Glycolic Wash comes packaged in an amphoteric delivery system to ensure the effectiveness of the AHAs in this Neostrata cleanser."
DrSkinSpa.com is adamant about keeping their customers current with the latest innovations in skin care solutions. The products selected for DrSkinSpa.com have been formulated, tested, and deemed most effective by dermatologists and estheticians to treat a wide variety of skin care needs. For example, DrSkinSpa.com's Ageless Derma mineral cosmetics line is paraben free, contains natural anti-inflammatories, and is made of completely pure minerals. These products are safe for sensitive skin and offer broad-spectrum sun protection. Anti Aging Mineral Makeup staves off and diminishes wrinkles using Vitamins A and E, and Green Tea Extracts. Products are made in the United States and are never tested on animals.
DrSkinSpa.com provides their clients with a generous 14-day money-back guarantee, a unique 120% price protection guarantee, and free shipping. This e-store also has a top-notch esthetician available for customers' inquires at no additional cost.