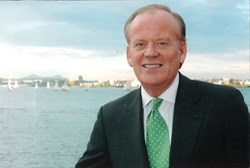 We are honored to be recognizing one of Boston's leading citizens in Jim Brett.
Boston, MA (PRWEB) September 07, 2013
James T. Brett, president and CEO of the New England Council and a longtime advocate for people with intellectual disabilities, will be honored at the University of Massachusetts Boston's ninth annual gala on Monday, September 16.
Proceeds from the gala will be used to endow the James T. Brett Chair in Disability and Workforce Development—the nation's only endowed chair in this field. The Brett Chair will provide leadership and resources to enhance workforce participation and social inclusion for people with disabilities. The chair will be located in the university's new School for Global Inclusion and Social Development.
"We are honored to be recognizing one of Boston's leading citizens in Jim Brett," said Chancellor J. Keith Motley. "He's a neighbor, has been a true friend of and advocate for Boston and our region, and is committed to helping to create opportunities for some of the most vulnerable members of our society. We look forward to continuing to work with Jim to strengthen our research and leadership in this area."
Brett, of Dorchester, has been a business, civic, and humanitarian leader in Massachusetts for more than four decades. In addition to leading the New England Council, Brett is involved with several organizations devoted to the advancement of people with intellectual disabilities. Brett House, a Dorchester residential home for adults with disabilities operated by Bay Cove Human Services, is named in Jim's honor.
"We have made great progress, but clearly there is much work to be done," Brett said. "The creation of this chair will help enhance research and also raise visibility on this important issue."
Brett is the newly appointed president of the Board of Directors for the Massachusetts Association for Mental Health. He is also chair of the President's Committee for People with Intellectual Disabilities and the Massachusetts Governor's Commission on Intellectual Disability, and he is a former member of the state House of Representatives.
The 9th Annual UMass Boston Gala will be held on Monday, September 16 at the Seaport World Trade Center. The evening will begin with a reception at 5:30 p.m., followed by dinner and a program beginning at 6:30. Jack Connors, Jr., chairman emeritus of Hill Holliday, will serve as emcee.
Tickets are $250. To purchase tickets or learn how you can support the Brett Chair, call Gina Cappello at 617.287.5335 or visit http://www.umb.edu/gala.
About UMass Boston
With a growing reputation for innovative research addressing complex issues, the University of Massachusetts Boston, metropolitan Boston's only public university, offers its diverse student population both an intimate learning environment and the rich experience of a great American city. UMass Boston's ten colleges and graduate schools serve 16,000 students while engaging local, national, and international constituents through academic programs, research centers, and public service activities. To learn more about UMass Boston, visit http://www.umb.edu.