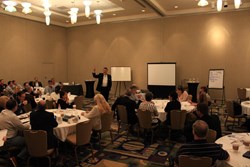 "The Donor Motivation Program is the best planned giving program I've seen. I was blown away. We were very successful in our very first year. I'd highly recommend it."

Jon T. Trainor, director of development at the Akron Museum
Pittsburgh, PA (PRWEB) September 13, 2013
Planned giving programs, like everything in our world, must continue to evolve to meet the changing needs of donors. Consultants who serve nonprofits must also grow and evolve, while sharpening their skills through training.
Donor motivation consultants from across North America recently spent two days at the Hyatt Pittsburgh Airport studying the latest trends in the planned giving world and honing their skills through multiple sessions on the changing of today's donors. Consultants come to Pittsburgh annually from across the US and Canada for two 12-hour days to learn about the latest planned giving developments and sharpen their ability to help nonprofits overcome the formidable obstacles they face.
The Donor Motivation Program, according to internationally-known author and speaker, Scott Keffer, the creator of the turnkey planned giving presentation system, has helped leading North American nonprofits double the results from their planned giving efforts with limited resources since 1995.
"A number of fundraisers have called our system 'donor motivation in a box' or 'planned giving for dummies,' in a good way. It's due to the fact that we've worked long and hard to create a complete, A-to-Z planned giving presentation program and system," notes Sharon Dorbritz, director of operations for the program, who heads the training for the consultants and their teams on how to better serve nonprofits.
"We have to show nonprofits how to reach more donors with fewer resources. These dynamics have forced us to create the most cost effective, time efficient planned giving presentation system," Dorbritz stressed.
Keffer led the sessions on Aug. 22-23 and outlined for the attendees what he calls, "the latest disturbing trends facing nonprofits." He said that economic realities and looming uncertainties have forced donors to reshuffle their priorities and reevaluate the role of charity in their futures.
One trend that Keffer pointed out during the two-day event is that there has been an explosion of new nonprofits since 2000 competing for limited charitable dollars. The result is too many charitable organizations chasing too few dollars.
"Giving USA indicates that a half a million new charities have been created since 2000, half of them since 2005," Keffer said. "In fact, the number of charitable organizations registered with the IRS is double the number of businesses registered during the same time period. This presents a huge challenge to nonprofits who are chasing limited dollars with very limited resources."
Keffer said the program began licensing consultants in 2004 as demand for the planned giving program exploded. Potential consultants must be approved and then go through extensive training.
"Often, potential consultants are recommended by existing consultants or charities that are looking to bring The Donor Motivation Program to their city or expand the successful program to other geographic regions," notes Keffer. "Once recommended, applicants must qualify through a professional background check to ensure their personal integrity and professional experience. To be approved, among other things, an applicant must have a minimum of 10 years of experience and an impeccable record."
Keffer further explains, "Our consultants have an average of 20-plus years in philanthropic planning, so they bring a mature perspective and a seasoned expertise. More importantly, they must share our passion to change the world through philanthropy and be generous givers themselves."
Once approved, consultants and their teams are trained on the program and coaching continues through monthly calls, an annual training event and an online library of the latest tools and training.
"Once a year, we gather for an in-depth, advanced training led by Scott," shares Dorbritz, "to ensure our consultants are up to speed with the latest planned giving trends and improvements in our system. They love spend time learning from Scott and each other."
The end result: happy consultants and happy nonprofits.
Jon T. Trainor, director of development at the Akron Museum, who has more than 25 years in fundraising experience, rates the program as the best of its type.
"After a quarter of a century in development, I've seen it all," Trainor said. "The Donor Motivation Program is the best planned giving program I've seen. I was blown away. We were very successful in our very first year. I'd highly recommend it."
"We offer nonprofits an unconditional money-back guarantee because we know hands-down that it works," Keffer shares proudly. "We have never had to return one dime to a nonprofit because they were dissatisfied with our program. One day we will… and I'm OK with that. I don't ever want a nonprofit to feel they haven't received a ton of value from our program and network of consultants."
For more information, please visit: http://www.DonorMotivation.com