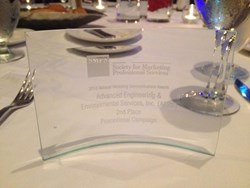 AE2S' efforts have been instrumental in getting the word out about this public water supply project.
Williston, N.D. (PRWEB) September 09, 2013
A campaign to inform the public and promote the benefits of the Western Area Water Supply Project (WAWSP) in northwestern North Dakota recently won a 2013 National Marketing Communications Award. The public water project's marketing campaign took second place in the Promotional Campaign division at the Society for Marketing Professional Services (SMPS) conference in Orlando, Fla.
The WAWSP is a $350 million project that primarily utilizes Missouri River water that is treated at the Williston Regional Water Treatment Plant and is supplemented with groundwater through the R&T Water Supply Commerce Authority's Water Treatment Plant near Ray, N.D. The water produced by these facilities is transported to parts of Burke, Divide, McKenzie, Mountrail, and Williams Counties where there is a lack of high-quality drinking water. The Western Area Water Supply Authority (WAWSA) contracted the Advanced Engineering and Environmental Services, Inc. (AE2S) Marketing and Communications Group to provide public information services for the WAWSP.
AE2S' efforts include website development, advertising, news releases, informational articles, a quarterly newsletter, and event coordination for the WAWSP, among other activities. The promotional campaign coupled with the incredible growth in northwestern North Dakota fueled by the Bakken oil play resulted in an increase from 400 rural user requests for WAWSP service in 2010 to currently more than 17,000 requests to serve residents, worker housing developments, schools, businesses, healthcare facilities, and the oil industry. "AE2S' efforts have been instrumental in getting the word out about this public water supply project. The Western Area Water Supply Project is now a household name in northwestern North Dakota due to branding, media coverage, direct mail pieces, and successful public events," says Jaret Wirtz, WAWSA Executive Director.
The AE2S team also shot and edited a mini documentary about the WAWSP, as well as a series of informational interviews with WAWSA Board Members explaining different aspects of the project. The videos and more information about the project can be found at http://www.WAWSP.com.
WAWSA currently serves the North Dakota cities of Williston, Watford City, Ray, Tioga, Stanley, Wildrose, Crosby, Fortuna, Noonan, and Columbus as well as the Williams Rural Water District and the McKenzie County Water Resource District. The Western Area Water Supply Project will serve an estimated 100,000 people by the year 2035.
About AE2S
AE2S specializes in water, wastewater, water resources, rural water, civil engineering, geomatics, structural engineering, electrical engineering, instrumentation and controls, and financial services. AE2S has offices located in Bismarck, Dickinson, Fargo, Grand Forks, Minot, Watford City, and Williston, ND; Eagan, Maple Grove, and Moorhead, MN; and Great Falls and Kalispell, MT; Madison, WI; and Salt Lake City, UT. For more information, visit ae2s.com or AE2S LinkedIn, Twitter and Facebook.