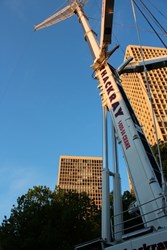 Having the right equipment, highly skilled and conscientious operators, a tremendous support staff and a total commitment to safety keep us a leader in the region
Philadelphia, PA (PRWEB) September 11, 2013
Thackray Crane Rental, Inc. announces today that they were named to the ACT 100 list for 2013-2014. ACT, a subsidiary of KHL Group, known as a leading authority on construction industry information, annually lists only the top 100 Crane rental companies in the United States and included Thackray Crane Rental from a universe of nearly 1,000 crane rental companies nationwide.
Thackray attributes this prestigious recognition of their success from ACT to a philosophy set forth by the founders, Walter and Anna Thackray, of conducting honest and fair dealings along with hard work. The current five Thackray siblings, who own and run the company daily, maintain this proud heritage built over 67 years and three family generations and believe that this helps set them apart from the other non-family owned and operated crane rental companies nationally and in the tri-state region served by Thackray.
Started in 1947 with a TL20 Lorraine crane, Thackray Crane today owns and operates over 100 cranes and maintains a fleet of construction rental equipment including heavy haul tractors, oversize tractor trailers, forklifts, Lulls, boom trucks, telehandlers, all terrain cranes and other super capacity mobile hydraulic cranes, including one of the largest Liebherr cranes with the ability to lift over 500 tons. Thackray Crane supports their customers with a full range of services including large warehouse storage facilities, just-in-time synchronized delivery, jobsite storage, fabrication facilities and a network of specialty suppliers, that are often also customers, that can be incorporated into any type of construction project, making Thackray Crane Rental a logistics coordinator and one-stop shop choice for any size project.
Thackray Crane's rentable heavy duty construction cranes, equipment and specialty crane attachments are frequently rented together and operated by licensed operators who are long-time Thackray Crane employees. Their crane and equipment operators have a broad variety of relevant experiences working within and around the region and that includes navigating the large crane equipment throughout the narrow streets in the City of Philadelphia, lifting heavy equipment to the top of skyscrapers and hi-rises, and working in crowded urban areas that require extra safeguards. Because Thackray Crane's primary focus is safety, the crane rental company is often called upon for critical crane lift and custom crane lift projects. Every job is unique and every job has special requirements. The result is that Thackray Crane attracts and serves a loyal group of general contractors, wireless providers, steel erectors, energy suppliers and HVAC contractors along with some of the most recognized businesses in the region.
Due to their years of accumulated capabilities, experiences and their consistent ability to safely deliver thousands of crane lifts per year, Thackray Crane has become the crane rental company of choice for regional contractors, companies and civil organizations and agencies located throughout Pennsylvania, New Jersey, Delaware, Maryland and surrounding regions.
"It's not just our equipment and maintenance shop that makes us a leader in our area. Our crane operators are all licensed and certified and our logistics support and long term relationships with partner companies and municipalities set us apart" states family owner and operations manager Bob Thackray. "We also have an excellent relationship and receive tremendous cooperation from local, state and Federal authorities when it comes to coordinating road and street closures and helping us with traffic control, and things that are critical to the safety and success of our projects. We truly value these longstanding relationships."
The tremendous scope of Thackray Crane's work also shows why they rank in the American Cranes & Transport Top 100 crane companies in America. Thackray Crane is trusted to perform crane lifts that range from working on the tallest buildings in Center City Philadelphia like the architecturally significant Society Hill Towers to the moving and lifting of priceless art works and statues for the Philadelphia Museum of Art. But in addition to traditional crane construction work, Thackray is frequently called in for high tech additions like placing over 11,000 solar panels at the landmark Lincoln Financial Field, home to the Philadelphia Eagles and working on innovative new construction projects including the new hi-rise facilities for Children's Hospital of Philadelphia and Temple University. Because Thackray's crane equipment is agile, and can be deployed in a variety of sizes, the company is able to save contractors significant time and money by complementing traditionally expensive tower construction cranes.
Another key factor that sets Thackray Crane Rental apart as a Top 100 Crane Rental Company and helps make them a leader in the rental of cranes and equipment is their attention and commitment to safety. Going beyond the requirements of regulatory compliance, Thackray holds regular safety committee meetings and jobsite toolbox talks and is one of the few crane rental companies that maintains a full time in-house safety director. This commitment to safety is further backed by outside consultants who routinely work with Thackray to improve upon safety training and awareness. The result of Thackray Crane's safety commitments includes a recently published and conveniently sized Employee Safety Handbook available to all of Thackray's crane operators.
According to co-owner Linda Thackray, "Having the right equipment, highly skilled and conscientious operators, a tremendous support staff and a total commitment to safety keep us a leader in the region. Being recognized by American Cranes and Transport Magazine is something we unexpectedly achieved because of our family of employees and the pride they take in serving our extended family of loyal customers."
For additional information please visit http://www.thackraycrane.com or contact Thackray Crane Rental's media coordinator at info(at)thackraycrane(dot)com or 215 464-1600.
About Thackray Crane Rental Inc.
Thackray Crane Rental has for over 67 years operated, rented and maintained an ever improving fleet of heavy haul tractors, forklifts, cherry pickers, Lulls, boom trucks and super high capacity mobile hydraulic cranes. Thackray Crane Rental works closely with the following industries: HVAC, Steel Erectors, Non-Residential Construction, Petrochemical, Chemical & Pharmaceutical Manufacturing, Power Generation & Distribution, Wind & Solar Energy, Telecommunications, Sports Stadiums, Hospitals, Hotels & Motels, Casinos, Museums, Movie Production, Public Schools & Municipalities and Shipbuilding. Thackray Crane Rental is a full service crane rental company that also provides industrial warehouse storage and heavy haul oversize transportation services, and is the Tri-State region's largest family owned and continuously operated crane rental company with owners on-site daily.
Thackray is nationally recognized for providing services to some of the most recognized construction companies and general contractors in the surrounding area and for performing some of the most strategic crane and special crane lifts in the City of Philadelphia, New Jersey and the surrounding regions.
About American Cranes and Transport
American Cranes and Transport magazine (ACT) annually tracks the largest crane owning companies in North America and is regarded as one of the most respected, editorially independent trade magazines in the crane, rigging and specialized transportation sector.
###