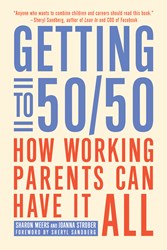 "Every working mom needs to read this book... twice."
—Lois P. Frankel, Ph.D., author of Nice Girls Don't Get the Corner Office
(PRWEB) September 09, 2013
Sharon Meers and Joanna Strober are two working moms who believe that everyone wins when men are full parents and women have full careers. They know that families thrive not in spite of working mothers, but because of them.
In a recent article from The Daily Mail Sheryl Sandberg, COO of Facebook, discusses living a 50/50 relationship with her husband. "She suggests that allowing men to take on their share of chores provides women with more choices, and that the 'bonus... extends to the men themselves and their children as well'."
The Sunday Times also featured Sheryl Sandberg and Getting to 50/50 in a recent article. "In many cases, getting to 50/50 is not just the fair thing to do, but the better thing to do for a family," Sandberg says.
Getting to 50/50 is featured in an article on Red Online about returning to work following maternity leave. "The book comes out in paperback this September and frankly is so full of smart, practical, honest advice and juicy little insights into contemporary marriage that I'm buying another copy for my girlfriend."
Getting to 50/50:
How Working Parents Can Have It All
By Sharon Meers and Joanna Strober
Foreword by Sheryl Sandberg
The Road Map to a Great Career, a Good Marriage and a Happy Family
Here are real-world solutions for parents who want to get ahead in their careers and still get to their children's soccer games; strategies for working mothers facing gender bias in the workplace; advice to fathers new to the home front; and tips for finding 50/50 solutions to deal with issues of money, time and much more.