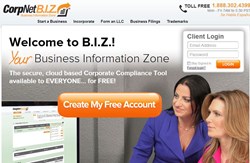 Westlake Village, CA (PRWEB) September 09, 2013
CorpNet.com, a leading online business document filing company that helps entrepreneurs start a business and keep a business in corporate compliance, reminds all independent contractors and small business owners that Monday, September 16th is the deadline to pay the estimated tax installment for the 2013 third quarter.
In general, freelancers, small business owners, and independent contractors should expect to pay estimated quarterly taxes if they will owe at least $1,000 for 2013 and their tax withholdings will not cover at least 90% of the taxes they will owe for the year.
To help small businesses meet their legal and tax requirements, CorpNet.com launched B.I.Z. (pronounced "Bee Eye Zee"). Complimentary to any new or existing small business owner, attorney, or accountant/CPA, CorpNet's B.I.Z. sends personalized email alerts for important tax and state filing deadlines. It's the easiest way to never miss a deadline and avoid late fees and penalties.
B.I.Z. is not the only way that CorpNet aims to simplify the logistics of starting and running a business. The company recently launched the Business Structure Wizard to help guide new business owners in selecting a business structure. For example, entrepreneurs can learn if it's better to form an LLC or an S Corporation.
According to Nellie Akalp, co-founder and CEO of CorpNet.com, "You may be charged a late payment penalty if you fail to make proper estimated tax payments throughout the year. That's why this is a good time to assess your business' profit and loss for the third quarter and send in what you owe for taxes."
CorpNet.com is known for its customer-centric philosophy, developing a range of free, value-add tools to help small business owners thrive in today's economy. CorpNet customers rave about the company's friendly, helpful service, including five-star CorpNet Reviews on Trust Link.
If you are required to pay a federal estimated tax payment, you can pay online at http://www.irs.gov/e-pay
About CorpNet.com
CorpNet.com is an online business document filing service that provides new and existing business owners with the most comprehensive, cost-effective services when it comes to starting, protecting, and managing a business. Through its website, CorpNet.com provides business filing services required for a variety of business needs such as: incorporate a business or form a Limited Liability Company (LLC), file a DBA, Doing Business in Multiple States (Foreign Qualifications), close a business (Dissolutions), Registered Agent Representations, Trademark Search and Registrations, and Corporate Compliance services and supplies for all 50 states.
Founded by experienced entrepreneur/attorney husband and wife team, Philip and Nellie Akalp, CorpNet.com is a private company based in Westlake Village, CA. For more information, please visit http://www.corpnet.com or follow @CorpNet on Twitter.