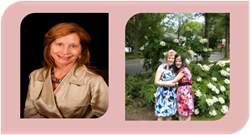 (PRWEB) September 13, 2013
"Family Voices welcomes Cristine Marchand as the Interim Executive Director and Lynda Honberg as the Interim Director of Strategic Partnerships to lead our national organization during this exciting time of health care reform and access," announced Molly Cole, President of the Board of Directors. "The Board is pleased the organization is represented by such a strong team of knowledgeable advocates for children with special health care needs and disabilities."
During this interim period, Ms. Marchand and Ms. Honberg are working closely with each other, the Family Voices Board of Directors, staff and consultants, the Family Voices network and collaborating agencies as a team with a blended portfolio of federal and state policy, federal and state grant development and management, nonprofit engagement, and community advocacy. Cristy and Lynda share a deeply personal connection with Family Voices' work: Lynda as the mother of a daughter with special health care needs and long-time employee of the federal Maternal and Child Health Bureau; Cristy as a guardian for a man with multiple disabilities as well as over 30 years engaged in the disability rights movement and the nonprofit sector.
Based out of Family Voices' executive office in Albuquerque, New Mexico, Cristy, as the Interim Executive Director, will provide the day-to-day organization and personnel management while also exploring infrastructure and governance issues. Lynda, as Interim Director of Strategic Partnerships, is based in the Washington, D.C. area. Her scope of work will focus on building partnerships with federal and private entities, strategic planning, and public policy. In coordination, Cristy and Lynda will provide communication and linkage to the FV Network, including State Affiliates and Family to Family Health Information Centers.
Cristy may be reached at cmarchand(at)familyvoices(dot)org or 505-872-4774; contact Lynda at lhonberg(at)familyvoices(dot)org or 202-695-0738.
About Family Voices
Family Voices aims to achieve family-centered care for all children and youth with special health care needs and/or disabilities. Through our national network, we provide families tools to make informed decisions, advocate for improved public and private policies, build partnerships among professionals and families, and serve as a trusted resource on health care. We do this through our state affiliates and our programs: Bright Futures, Kids as Self Advocates, and the National Center on Family and Professional Partnerships. Family Voices is a national nonprofit organization led by families of children with special health care needs at the board and staff leadership level nationally and in most states. For more information about Family Voices and how you can join and be part of our work, please visit http://www.familyvoices.org .