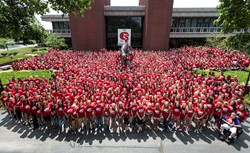 We expect to continue to grow and adapt to successfully compete in an evolving educational environment, so that we serve the needs of both our current and prospective students
Edwardsville, Ill. (PRWEB) September 10, 2013
Southern Illinois University Edwardsville's 2013 fall semester is highlighted by record total enrollments in the Schools of Engineering (1,462 students), Nursing (1,062 students) and Pharmacy (325 students). Undergraduate programs in the Schools of Education (4.7 percent), Business (4.5 percent) and Nursing (11.8 percent) all are enjoying enrollment increases.
"We expect to continue to grow and adapt to successfully compete in an evolving educational environment, so that we serve the needs of both our current and prospective students," said SIUE Chancellor Julie Furst-Bowe. "The awareness of SIUE's academic programs and services is growing regionally, nationally and internationally. Our intent is to expand the SIUE brand and capitalize on new opportunities."
The School of Engineering's undergraduate enrollment has climbed 11.8 percent (128 students) since last fall and 44 percent during the past five years. Dean Hasan Sevim has overseen steady growth from 1,054 total students in 2008. The School also is experiencing a rise in the ACT scores. This year's 143 freshmen directly admitted into the School had average math and composite ACT scores of 28.5 and 27.5, respectively.
"Ultimately, we have faculty dedicated to teaching excellence and mentoring," Sevim stated. "Our reputation in teaching and research is spreading fast, and our 2+2 agreements with regional community colleges are providing highly qualified students. Plus, we have a growing international reputation with exemplary cooperation from our overseas partners."
Scott Belobrajdic, associate vice chancellor for enrollment management said, "With our Schools of Nursing, Pharmacy and Dental Medicine at capacity, the interest in our professional schools reflects that prospective students are making decisions based upon career aspirations." He pointed to online programs bolstering Nursing.
The new freshman class average ACT (23.0) increased two-tenths of a point over last year and is the highest in University history. The increase is six-tenths of a point better than 2011.
"Our new direct entry options in business, engineering, nursing and pharmacy attracted 170 first time freshmen entering the University, which had a direct impact on the average ACT," Belobrajdic said. "Their mean ACT is 28. Direct entry allows us to compete for high achieving students who were opting for direct admit options with private and public competitors in previous years."
The School of Education also is developing early-entry options for students interested in its undergraduate programs.
New transfers are up to 1,252 students, an increase of 31, which is the highest since 2006.
"An increase in transfer students is a trend that we expect to see continue as families consider financing a college education," Belobrajdic said. "The debt accrued to attend college is a highly visible issue, and families are analyzing options to minimize their cost. So, attending a community college to obtain transferable credits and then transferring into a four-year university is a viable option. SIUE's positive relationships with local and area community colleges benefit all parties in those situations."
SIUE Fall 2013 Enrollment Facts & Figures

Undergraduate enrollment is up 11.8 percent (128 students) in the School of Engineering
Undergraduate enrollment is up 4.7 percent (51 students) in the School of Education
Undergraduate enrollment is up 4.5 percent (4