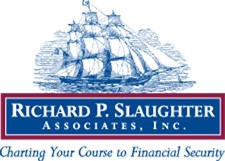 Providing outstanding service and wealth guidance to our clients is at the very core of our mission
Austin, Texas (PRWEB) September 09, 2013
Since the inception of the Five Star Wealth Managers ratings in 2009, Richard P. Slaughter Associates team members have been included in the ratings presented by Texas Monthly each year. And 2013 continues that trend with the most recent listings of top wealth managers in the Austin, San Antonio and Central Texas region.
"Providing outstanding service and wealth guidance to our clients is at the very core of our mission," said Brooks Slaughter, President and CEO. "We are very honored to have received this award for the fifth year in a row, as it provides confirmation to us that our methods are sound and our service level is unsurpassed."
The Five Star Wealth Manager ratings are established by Minneapolis-based Five Star Professional in partnership with Texas Monthly and awards candidates for providing top quality services to their clients. To be honored, candidates must satisfy 10 objective eligibility and evaluation criteria in the wealth management arenas of business planning, estate planning, financial planning, insurance, investments and taxation. Less than 4 percent of the more than 8,000 registered financial services professionals in the Central Texas region that includes Austin and San Antonio were selected as Five Star Wealth Managers for 2013.
Slaughter Associates VP, Darby Armont, MBA, CFP®, CFA, was awarded Five Star Wealth Manager in the financial planning category. In the investments category, Founder and Chairman, Richard P. Slaughter, President and CEO, Brooks Slaughter, MBA, CFP®, and Vice President Bob Tabor, AWMA®, AIF® were awarded the Five Star status, as well.
About Richard P. Slaughter Associates
Richard P. Slaughter Associates is a leading Austin-based wealth management and financial planning firm. Slaughter Associates delivers a comprehensive financial approach to its clients by providing financial planning, asset management, ongoing education and a lifespan relationship for a personal and individualized service. This approach is unique in a financial industry that is often segmented and outsourced. By committing to each of these important components, Slaughter Associates charts a path to reach the individual financial goals of its clients.
Founded in 1991 in Austin, Texas by Richard P. Slaughter, Slaughter Associates is one of the original fee-based firms in the nation. In 2010, the firm launched a new division to embrace the business community with Slaughter Associates 401(k). Texas Monthly has recognized Slaughter Associates for its customer service as a FIVE STAR Wealth Manager for five consecutive years with individual honors for each member of the executive team. Slaughter Associates is a NABCAP Premier Advisor, recognized for its commitment to maintaining top business standards, first-class financial management capabilities and dedication to preserving transparency in the financial services industry. The firm is also a distinguished Best Places to Work, honored by the Austin Business Journal for nine consecutive years.