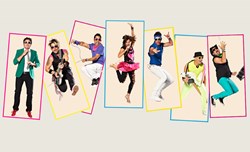 Napa, CA (PRWEB) September 06, 2013
A great night of classic 80's music! A Tainted Love performance is like reliving the 80's like never before. They deliver the complete experience: phenomenal songs, great moves, iconic video projections, and seven of the most charismatic and accomplished musicians ever seen. Tainted Love will take you back while keeping the party going all night long.
Based out of San Francisco, Tainted Love headlines coast to coast at major clubs, ballrooms, and rock venues. Their nationally celebrated high-energy show has founded a loyal fan base across the country; bringing packed houses, record-breaking ticket sales, and repeated sell-outs. Tainted Love continuously builds their performances to keep their connected and dedicated fans coming back for more. Audiences of every generation celebrate this band — from 80's junkies and enthusiasts, to music fans of all ages. Their growing devotees love to sing and groove along to all the greatest hits of the 80's. One can't help but get into the show whether they grew up in the 80's or just wish they had.
Tainted Love is renowned for uncompromising dedication to quality and for performing the very best and biggest hits from the 80's. The show is a pure high-energy carousel of timeless 80's classics that will have the audience dancing and singing along! Tainted Love is committed to performing the most well-known hits of the 80's true to form, as the original artists had intended, all the while adding their own brand of excellence, exuberance, and above all, fun!
Tickets for An Evening with Tainted Love are $20. They are on sale now and can be purchased through the theatre website at http://www.uptowntheatrenapa.com, at Ticketmaster (http://www.ticketmaster.com) or at the theatre box office (please call 707.259.0123 ext. 6 for hours). To find out more, please visit http://www.uptowntheatrenapa.com.
The Uptown Theatre Napa is downtown's ultimate destination for live concerts. Nestled in the famed West End district, this stunningly restored art deco masterpiece showcases only the finest acts, featuring music, comedy and more. An historic landmark, the Uptown offers a phenomenal, intimate live show experience, with excellent site lines and world class sound and lighting. As concert venues go, this is the place to be. Every seat is a great seat so buy concert tickets now!