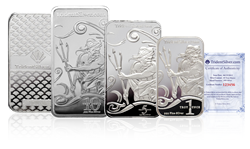 The addition of the 1 ounce and 5 ounce versions of the extremely popular Trident Silver bar reinforces Gainesville Coins' commitment to offering the best selection of bullion products to its customers.
Lutz, FL (PRWEB) September 10, 2013
Gainesville Coins, the first U.S. distributor of the popular 10 oz Trident Silver bars, is now offering the recently released 1 oz and 5 oz additions to the line.
Made from 99.9% pure silver, Trident Silver bars feature an image of the Roman god Neptune emerging from stormy seas and wielding his mighty trident, all on a mirror-like background. The back of the bar features a stylized ocean wave background, with the Trident Silver logo.
This level of beauty and detail is usually reserved for bullion coins. Outstanding aesthetics combined with low premiums is what propelled the original 10 oz Trident Silver bar to such popularity among silver buyers. The 1 oz and 5 oz bars recreate this beauty and affordability in forms which allow Trident bars to be an extremely attractive option for precious metals portfolios of all sizes.
The 5 oz and 10 oz Trident Silver bars are the first in the industry to provide online verification of your silver bars. Simply enter the serial number of your bar at TridentSilver.com to get the time and date your bar was produced.
Gainesville Coins is one of the largest and most-respected precious metals distributors in the world. The addition of the new 1 oz and 5 oz Trident Silver bars reinforces their commitment to offering a wide selection of bullion, precious metals coins, and certified coins to their client base.