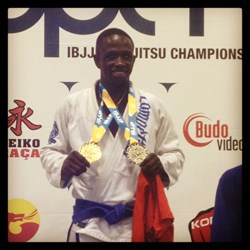 Atlanta, GA (PRWEB) September 09, 2013
Team Lloyd Irvin sent just a handful of fighters to the IBJJF (International Brazilian Jiu Jitsu Federation) Atlanta International Open. The tournament took place on August 31, 2013, and hundreds of competitors, represented dozens of teams, came out to compete.
Arthur Ceesay was among the stand out competitors at the Blue belt level, as he represented Team Lloyd Irvin. Arthur has been training with Team Lloyd Irvin for over 5 years, and he's finally breaking through a winning tournaments. He placed third at the highly competitive IBJJF Pan American championships in March of this year. After failing to bring home the gold at the IBJJF World Championships in June this year, Arthur reignited his focus and passion for training.
"My experience of competing at IBJJF tournaments has grown greatly this year due to my new found focus in training and also my participation in my last IBJJF tournaments."
Ceesay had four fights in his weight class, coming up short to Shane O'Hara of BJJ Revolution Team in the finals. But Ceesay would come roaring back in the Absolute division, claiming the gold. Again, having four fights, Arthur surpassed Alex Ninan of Alliance to win the men's blue belt absolute. Overall, Arthur had four submissions that day.
Arthur looks to continue to better his IBJJF tournament record. Look out for him at the upcoming IBJJF No Gi Pans in New York City and the IBJJF No Gi Worlds in Los Angeles November 2-3, 2013.
For more information on Team Lloyd Irvin please visit http://www.lloydirvinlive.com or call 301-449-KICK, lines are open 24/7