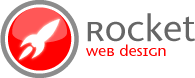 Rocket Web Design offers great looking affordable websites for businesses.
Salt Lake City, Utah (PRWEB) September 06, 2013
What comes with the low cost business design package from RWD?
When a business owner approaches RWD in search of a website for his/her company, they will be pleased to see what RWD can provide for them. RWD will provide them with a new logo specifically designed to fit their business. RWD will have a skilled designer work with the client to make sure that their site and logo are exactly what the client wanted, they work hard to make sure that their customers custom website designs are exactly the way they want them to be.
With RWD, business owners have the opportunity to purchase great looking and quality designed sites. The sites they design have been known to attract more business and traffic to the company which in return can provide the business with more sales. With the low cost business design package that RWD offers, business owners can get a professionally done website, new logo, and many more benefits from this money saving purchase.
Does the work that comes with the low prices of RWD match the work one would receive from another design firm?
People often think that the higher the price the better the quality, while this can often times be true, this is not the case with the custom website designs offered from RWD. Something that RWD really prides themselves on is the work they are able to provide while still being able to save their customers money. RWD is capable of providing high quality and professional looking websites for their customers without breaking their bank account. With the low cost business design packages available, people can get a website that represents their business the way it should, with professionalism.
The graphic designers that work for RWD are all highly qualified and have much experience with working on websites for business owners. They provide top of the line customer services when creating custom website designs, they are in constant communication with the business owner to make sure they get the site and the new logo looking exactly how the business owner wants it to. RWD really puts focus on communication with their customers, unlike other firm that don't check up with the customers, RWD is always calling to see if there are any changes that need to be made or if the customer has any specific requests on stuff they want done for their website. When looking for low cost website designs, give RWD a call.
For more information on RWD, please visit them at their website: http://www.rocketwebdesign.com