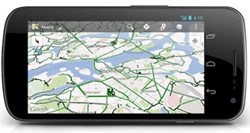 The same people who qualify for free cell phones under Lifeline Assistance will qualify for the new, internet-enabled smartphones.
(PRWEB) September 10, 2013
According to the experts at CheapInternet.com, the FCC's Lifeline Assistance program, which has generously given out free cell phones to an estimated 15-20 million struggling Americans over the past five years, is about to get considerably more generous and help the economically disadvantaged cross the digital divide.
CheapInternet.com analysts Mark Henry and Jim Bismark anticipate that the Lifeline Assistance (free government cell phone) program will soon begin offering internet-enabled smartphones and mobile internet plans to low-income Americans. By as early as 2014, what is now called the Lifeline phone program will for all intents and purposes become the Lifeline Internet phone program.
Eligibility requirements for the program will remain exactly as they are for the current cell phone program. "The same people who qualify for cell phones under Lifeline Assistance at no charge will qualify for the new, internet-enabled smartphones," Henry explained. "This includes households whose incomes are less than between 135-150% of the poverty level and families that participate in at least one government aid program such as Food Stamps (SNAP), Medicaid, SSI, housing or energy assistance and others."
Early last year the FCC formally announced their intent to transition Lifeline from cheap cell phones to internet-capable smartphones. Things are progressing quickly, and at this very moment two of the leading providers of Lifeline free cell phones --Tracfone (Safelink Wireless) and Nexus (ReachOut Wireless) -- are in pilot programs where they are delivering smartphones and internet plans to low-income Americans in twelve states. The details of the pilot study are available in this report by CheapInternet.com.
There is no word on what the final cost, if any, will be to recipients. But Henry believes that the program will follow the model of the current cell phone program: a no-cost smartphone and a basic data plan, with low-cost upgrades for higher speed and data usage. Henry added, "Even if they decide to charge $10 a month for a basic plan, it's considerably less expensive than what others pay and they get a smartphone, such as an Android, at no cost."
Henry and Bismark are confident that 2014 will be the year in which Lifeline Internet becomes available to the tens of millions of unconnected, low-income Americans who simply could use a little help getting what has become a necessity in the modern world.
CheapInternet.com is dedicated to providing the general public with information about all the new affordable or no-cost broadband internet programs for low-income Americans.
For inquiries or further information on the Lifeline internet and cell phone programs, contact:
Mark Henry
mark(at)cheapinternet(dot)com